Good morning, Taipei!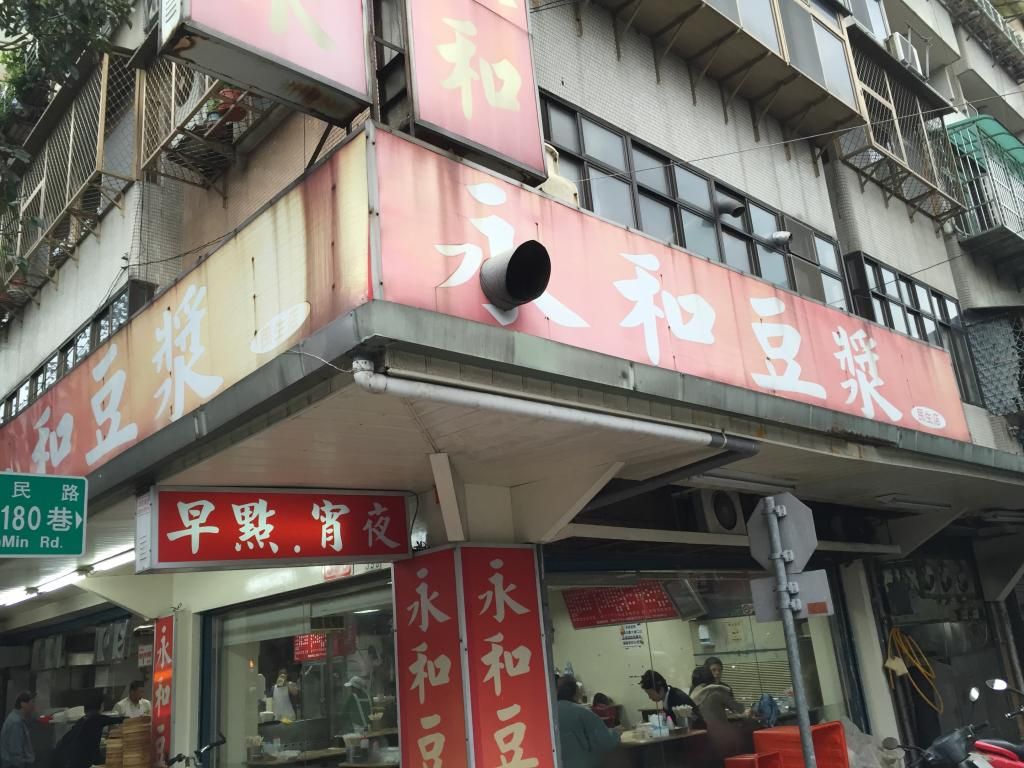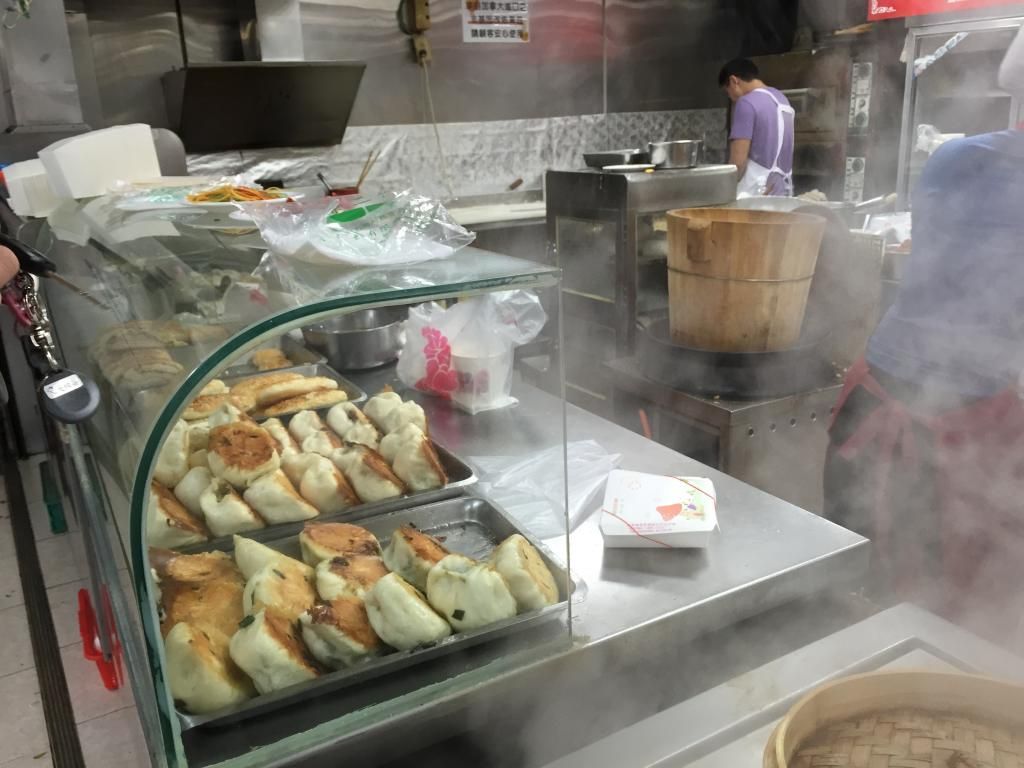 Starting my day with a very Chinese breakfast: Soya with Rice Milk + Xiao Long Bao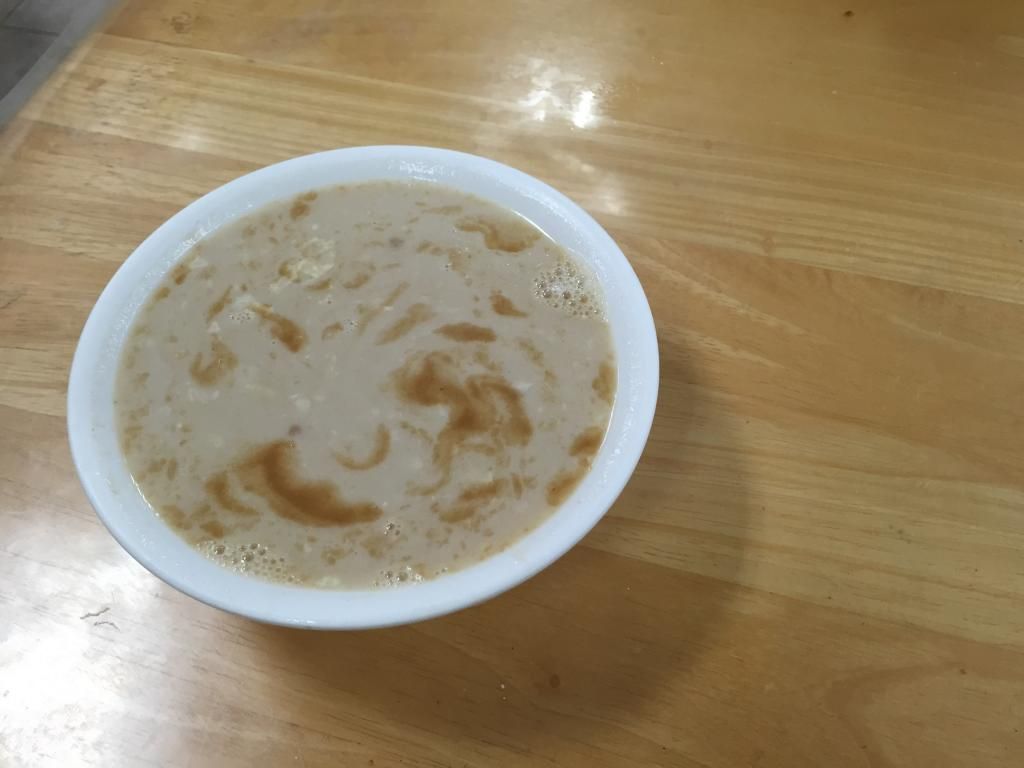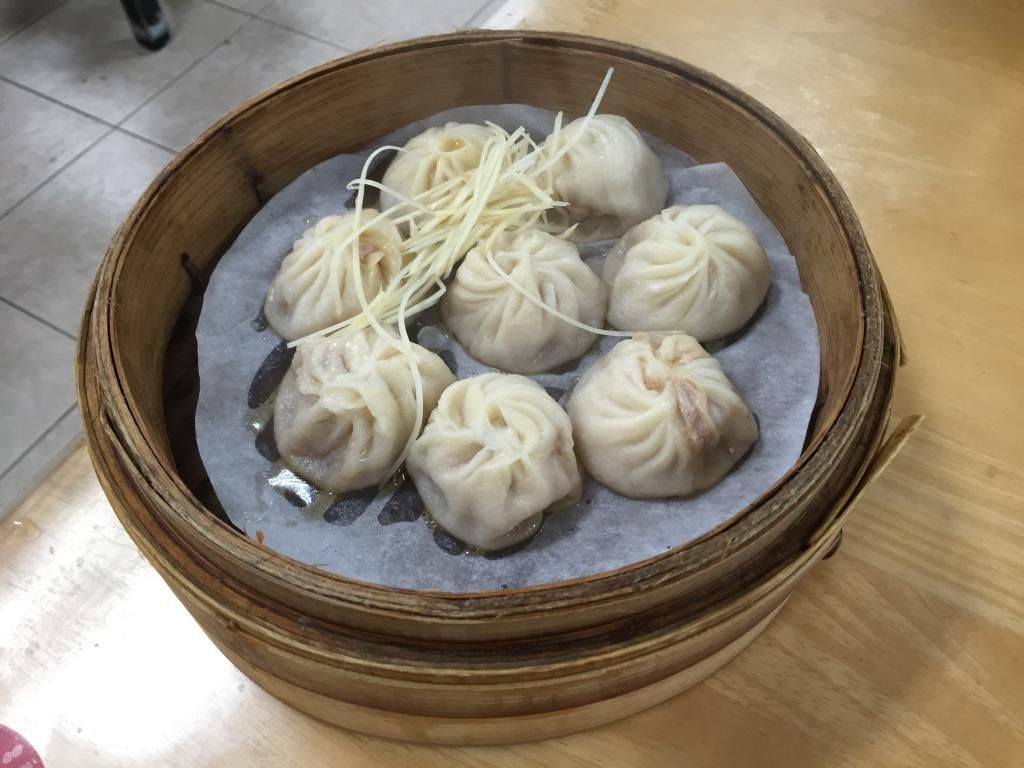 After breakfast, I headed off to my first destination of the day...
九份 JIUFEN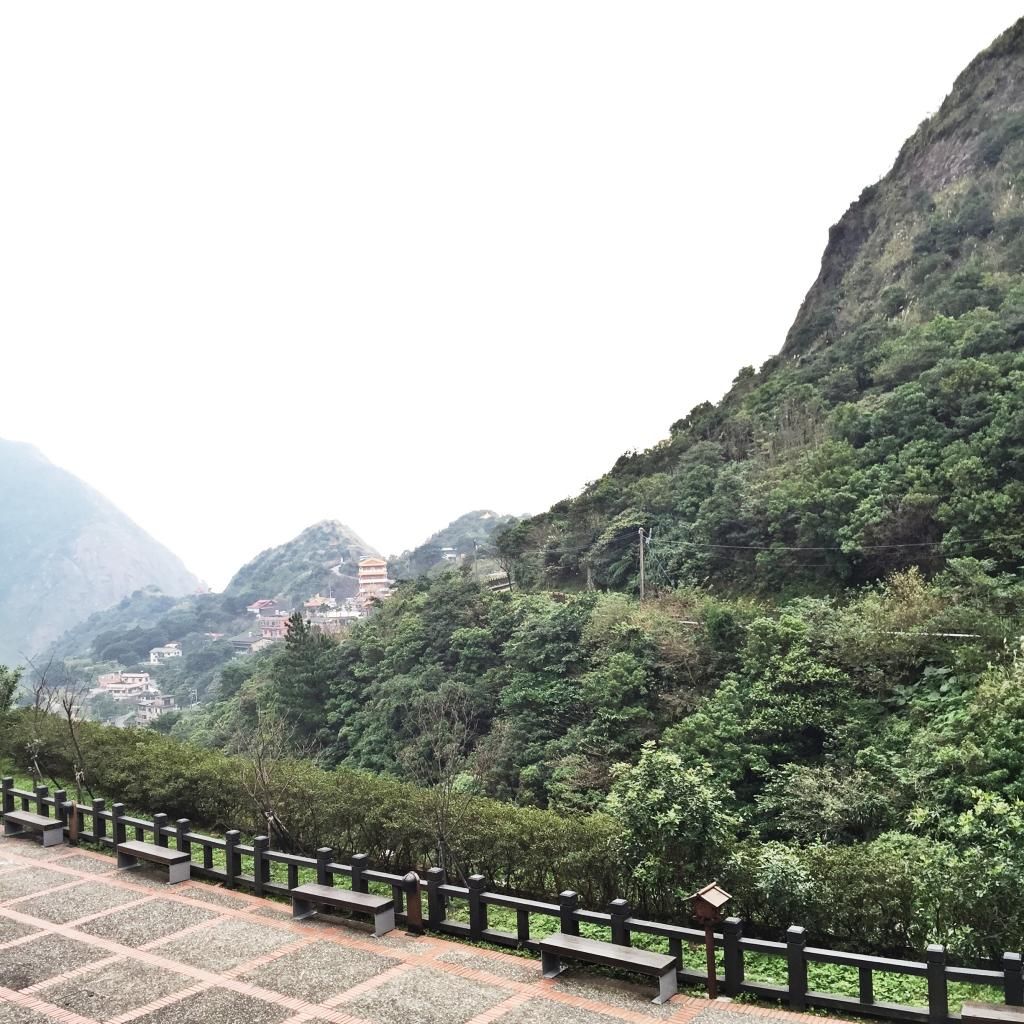 The name Jiufen comes from a legend where nine families used to live in this village. There was a lack of transportation system before this town was developed, which made trips to the market very inconvenient. Therefore, whenever one family goes grocery shopping at the market, they would divide everything into nine pieces for each of the families. "Jiufen" literally means "Nine Pieces" in Mandarin, and this is how the village name was formed.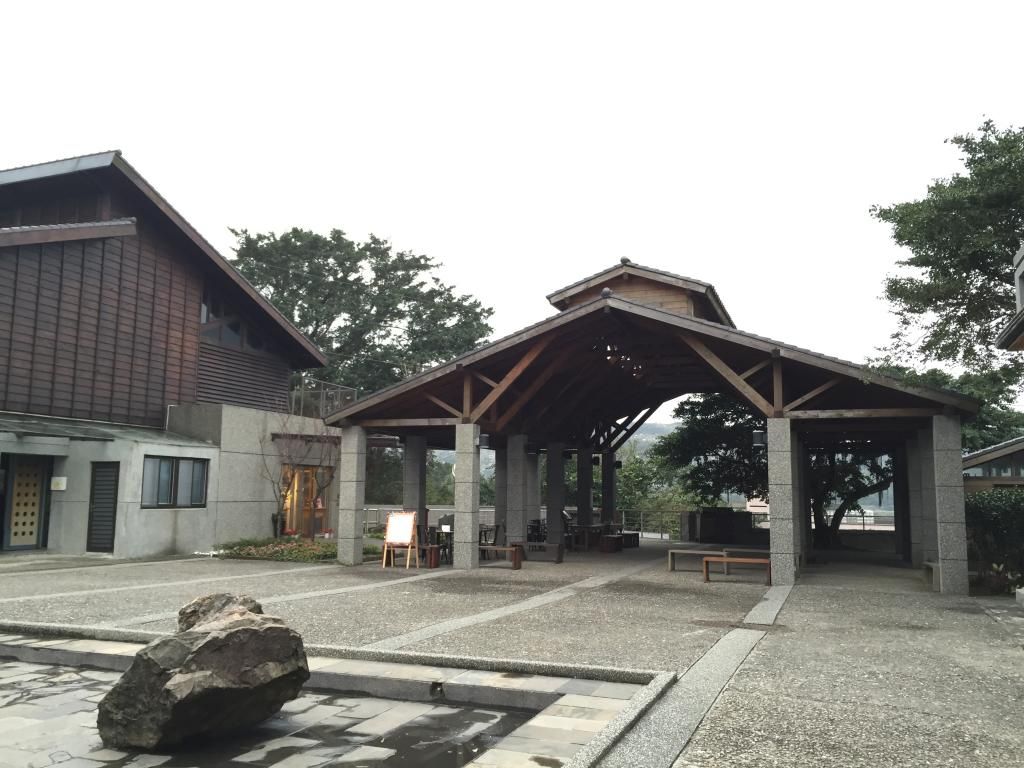 There are a lot of activities to be done and sceneries to be visited in this town. Let me take you a tour around...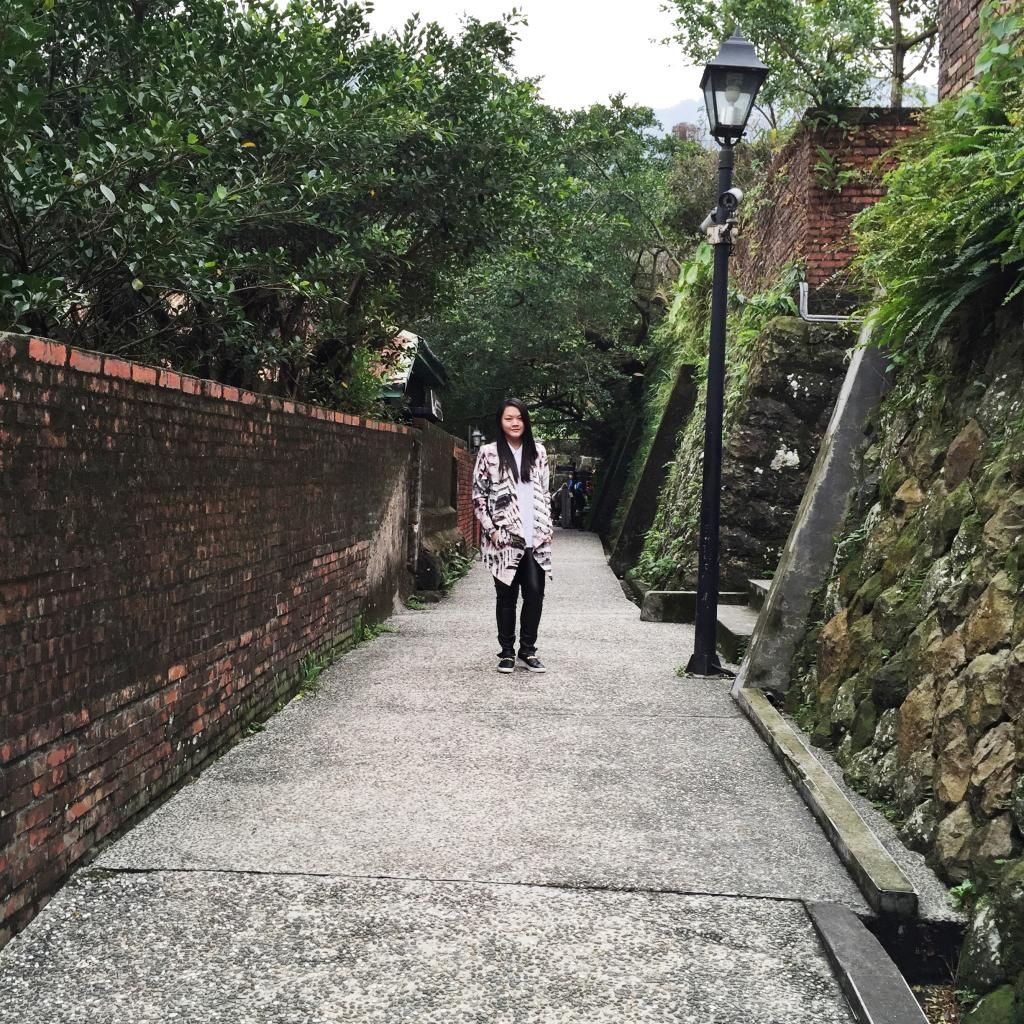 太子賓館 CROWN PRINCE CHALET
A walk through the park takes you back in time to the period of Japanese Colonization. Most notable among numerous Japanese style buildings is this chalet.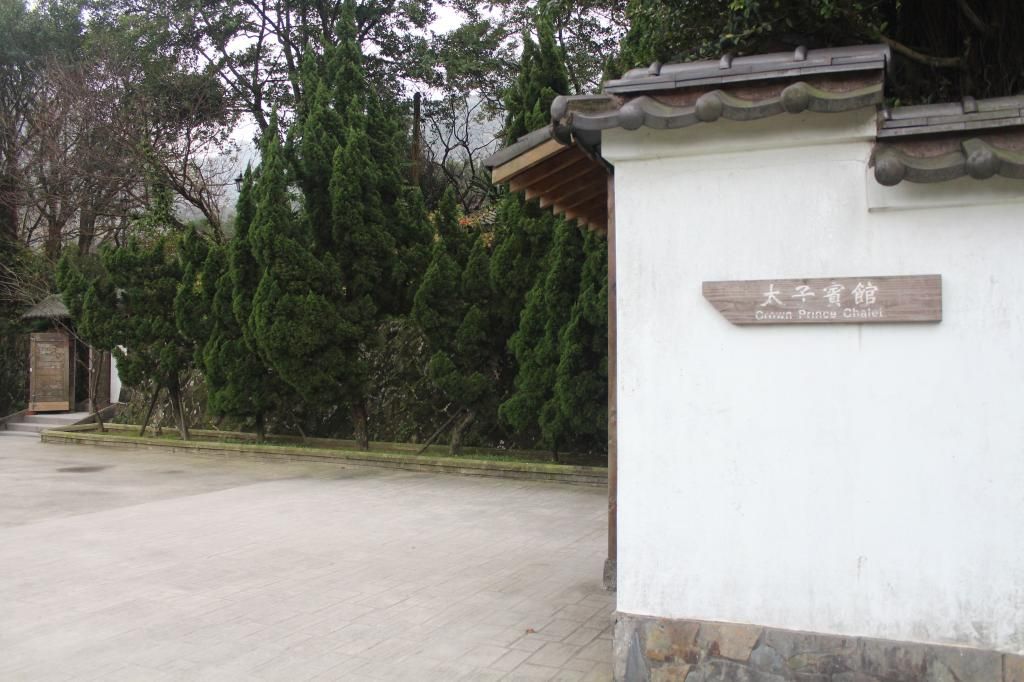 The chalet is one of the finest surviving wooded Japanese buildings in Taiwan. It was built in 1922 by Tanaka Mining Co. to host the Crown Prince (late Emperor Hirohito) for his visit to inspect the mining industry in the area.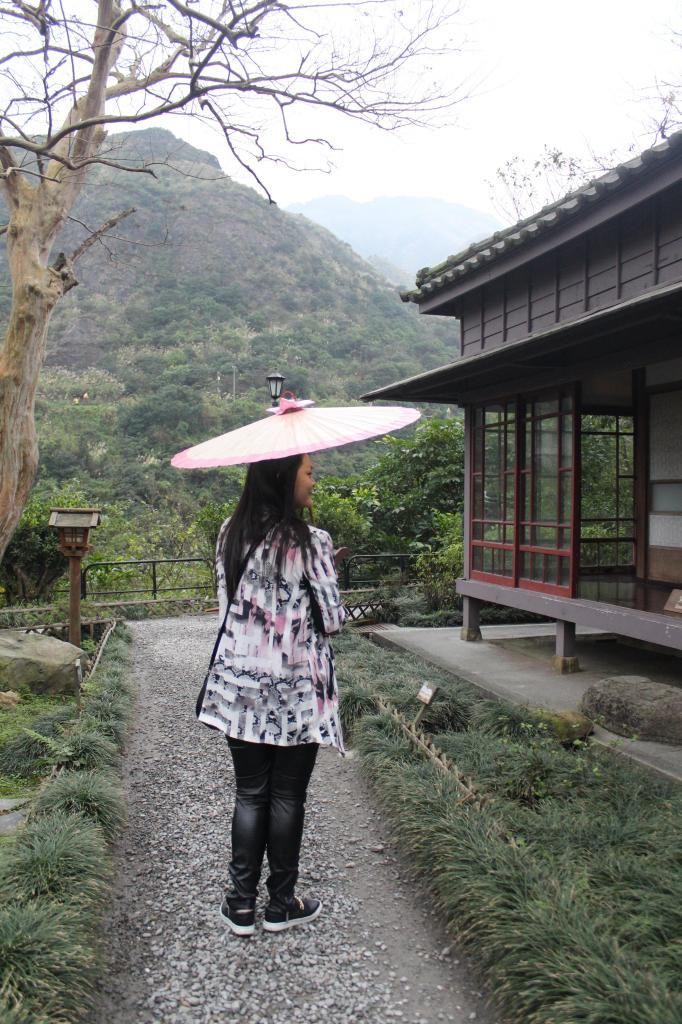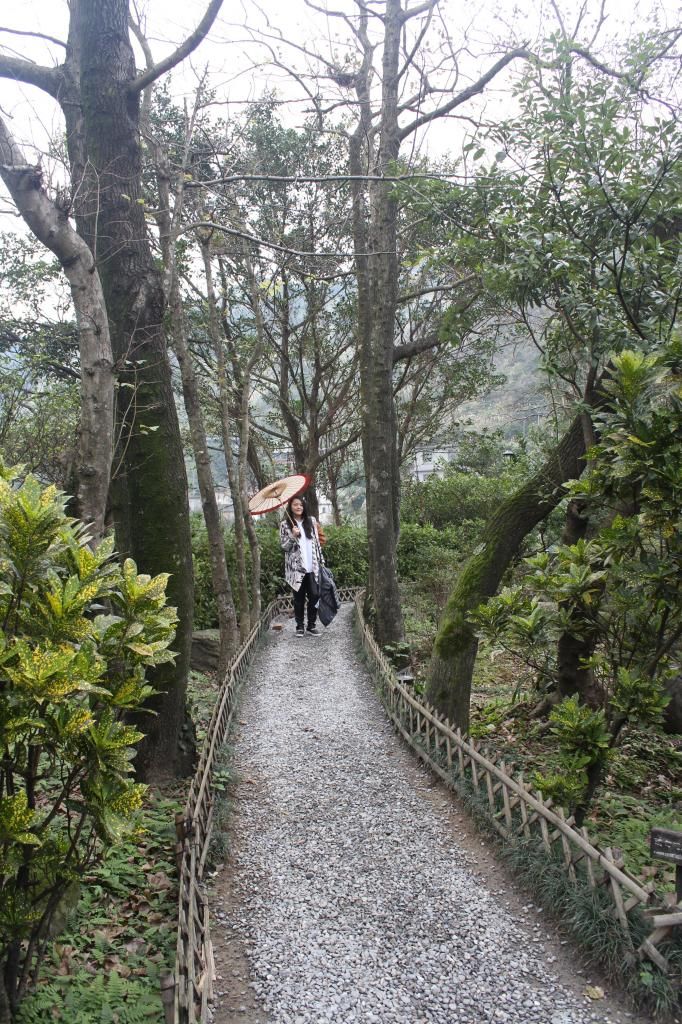 Definitely an exquisite architectural work, this chalet features Chinese cypress and amenities like Japanese garden, mini golf course, and an archery field.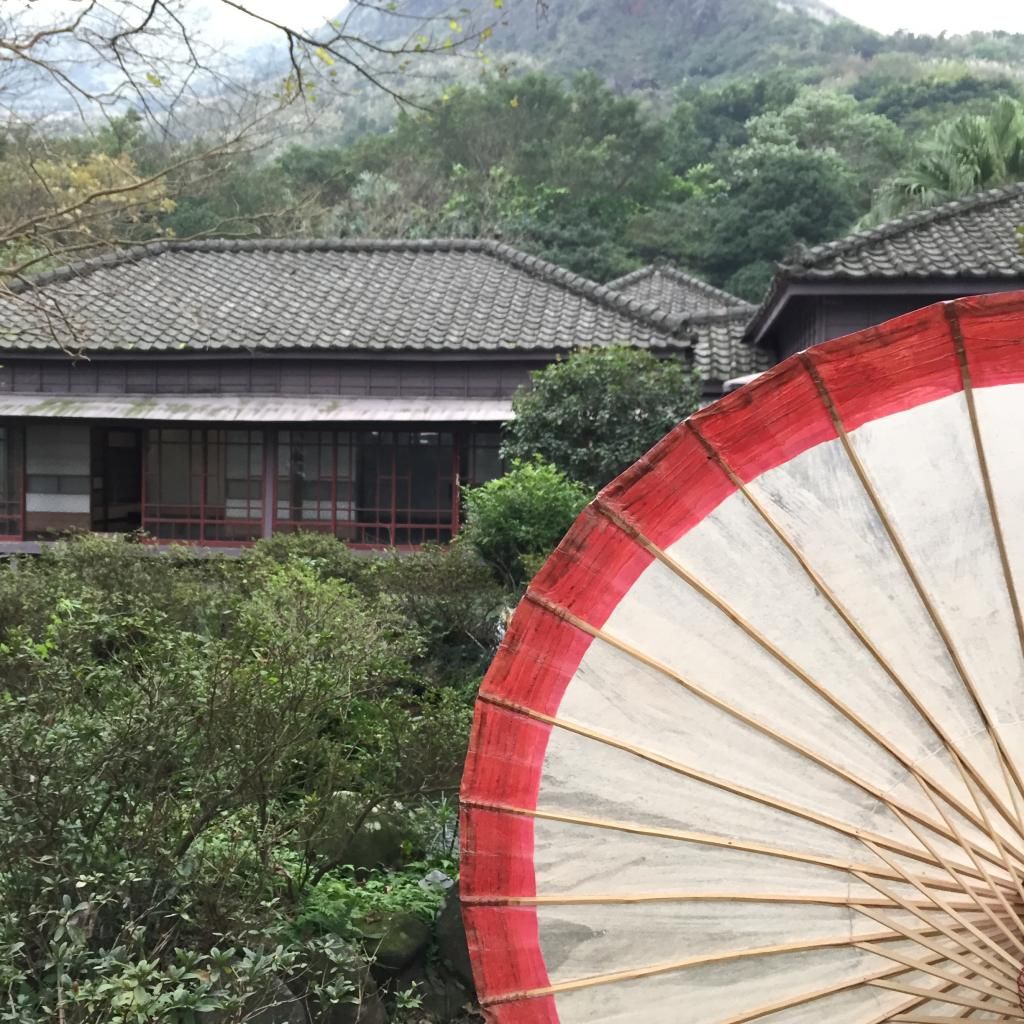 Founded during the Qing Dynasty, this small town was a relatively isolated village until the discovery of gold during the Japanese occupation in 1893, quickly developing the town.
黃金博士園區 GOLD ECOLOGICAL PARK
During World War II, the town housed a Japanese of war camp where captured Allied Force Soldiers (mainly British) were forced to work in the gold mines. I revisited the past through this park where the history and physical properties of mining and gold were introduced to me.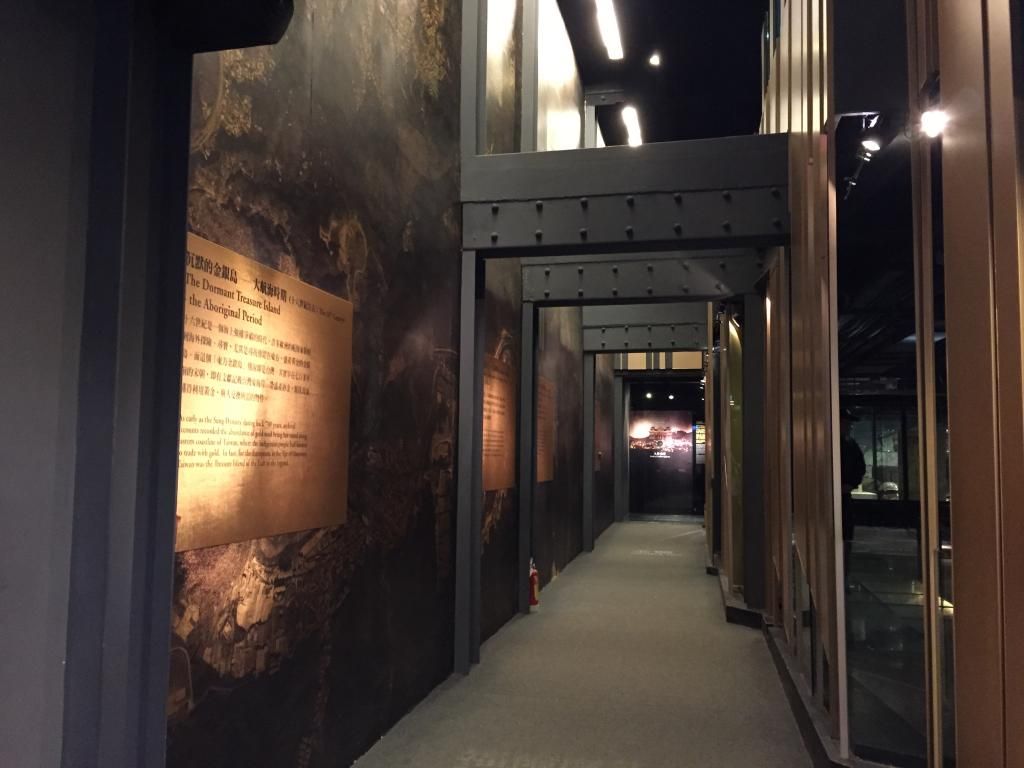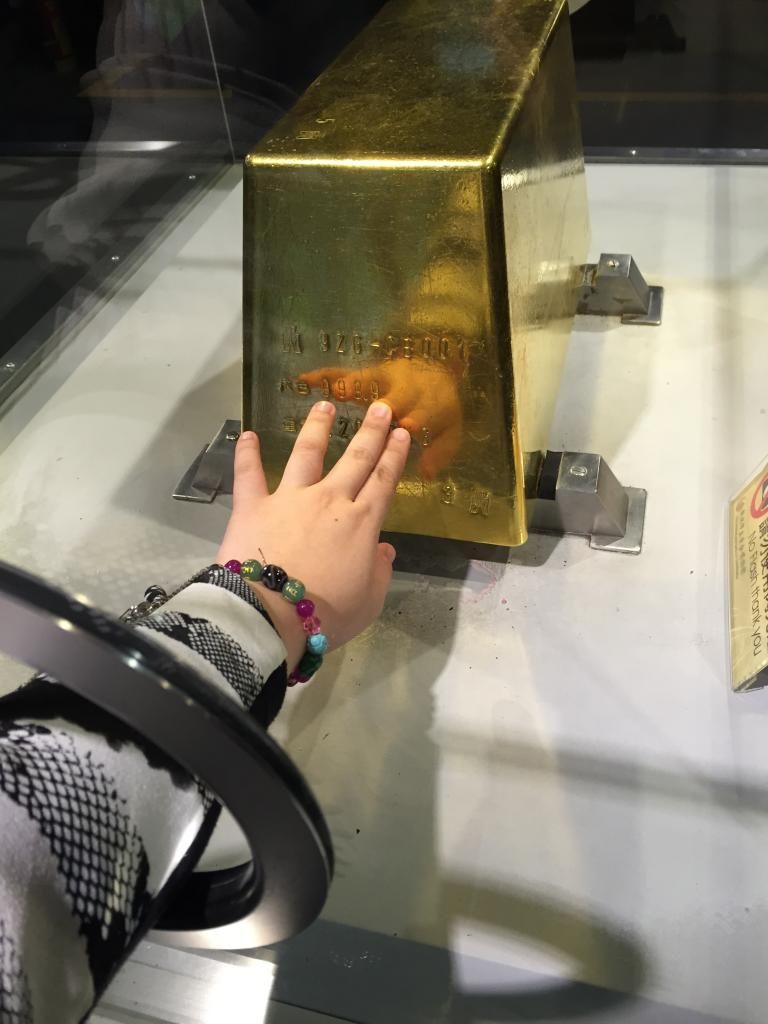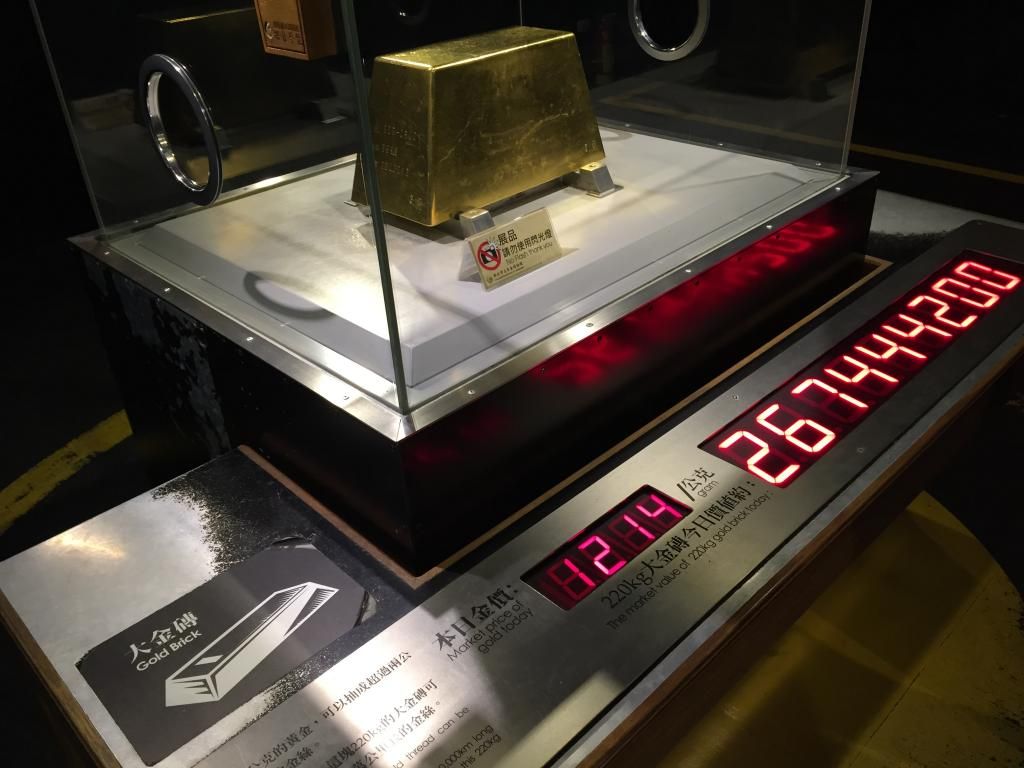 Make sure to touch this world record 220 kg- 999 pure gold bar. It is believed that it will bring good luck!
The day that I visited, it was valued at NT$ 267,444,200 or approximately US$ 8,482,528.
本山五抗 BENSHAN FIFTH TUNNEL
To take a deeper insightful look into the lives of the miners, I explored the tunnel next.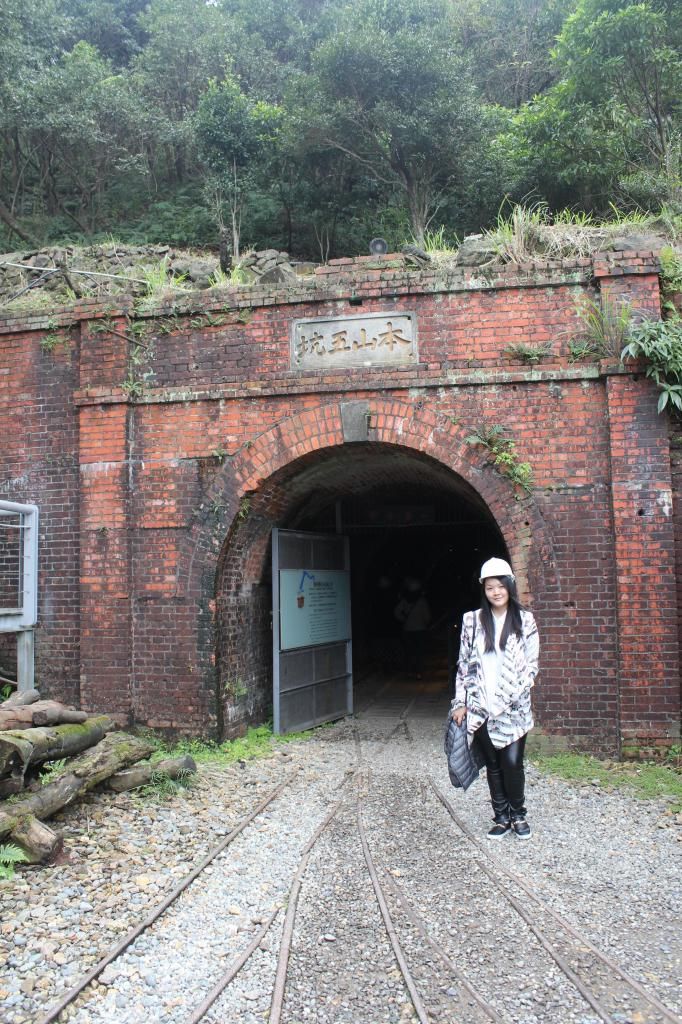 They let people entering wear a hard hat before trekking into the mines to feel the blood, sweat, and tears that went into the yanking of gold.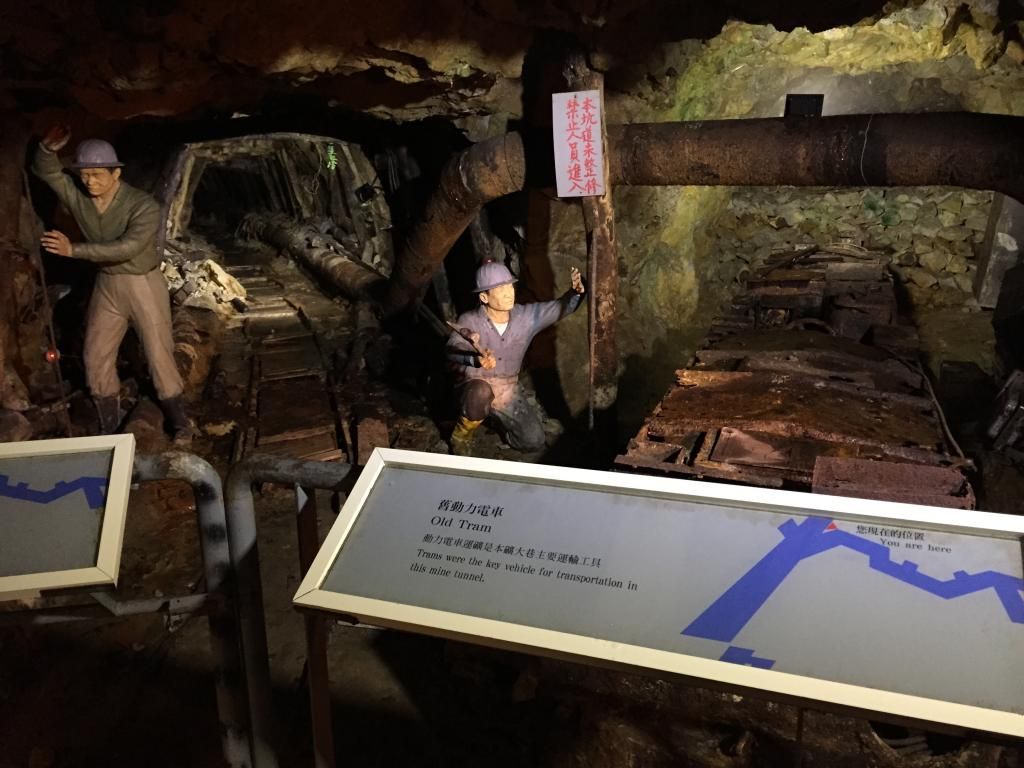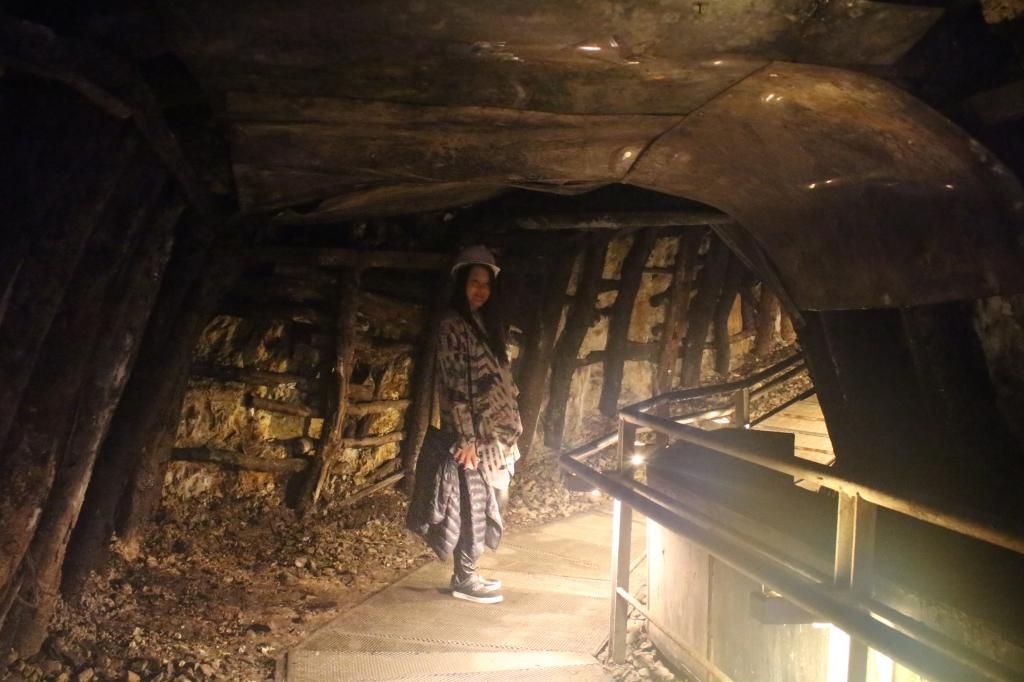 A place full of of historical, humanities, and natural heritage, the park is the first ecology museum in Taiwan. It actually serves as a venue for environmental education.
I even met and encountered students who were at the village to draw sceneries for their class requirements.
MINERS' LUNCH
To completely relive the mining experience, I headed to the nearby park for a legit Miners lunch!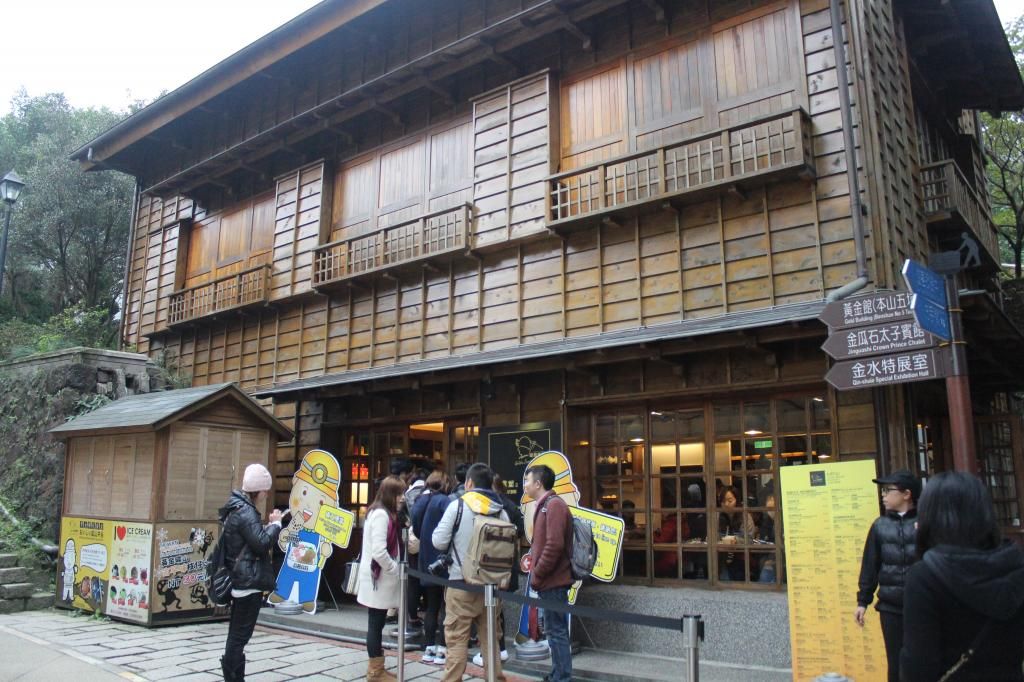 This particular restaurant offers a miners' lunchbox set...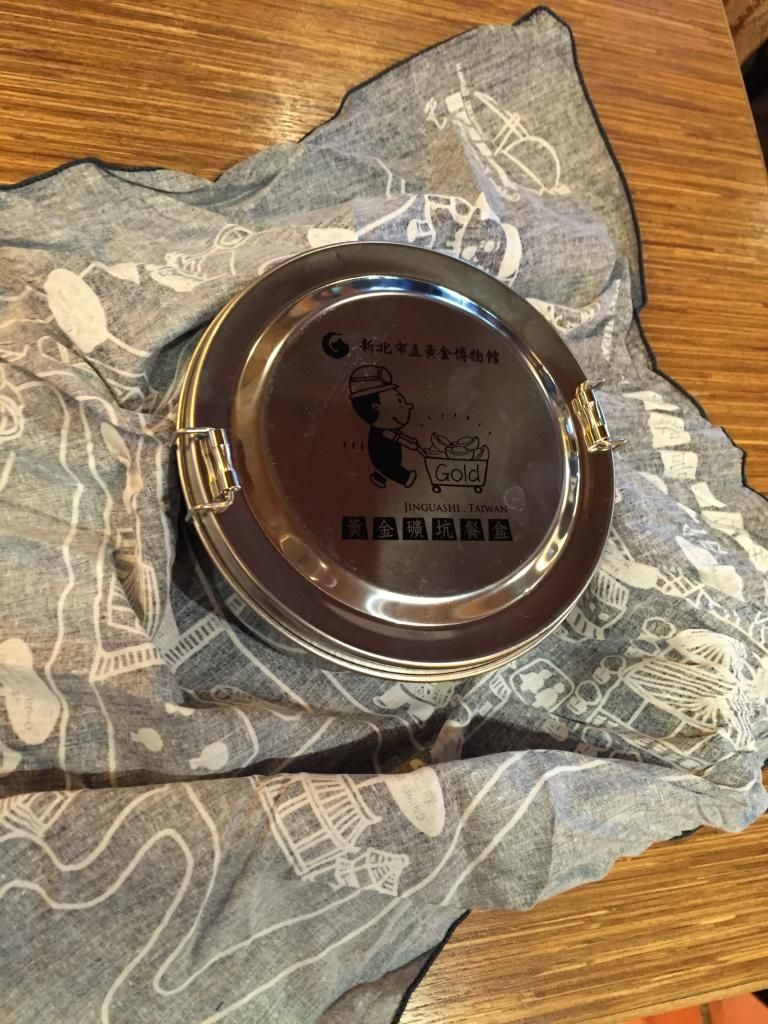 complete with a stainless lunch box, a wrapping cloth designed with a map of the Park, chopsticks, rice, pork chop, and pickled side dish- which you could take away with you and eat anywhere.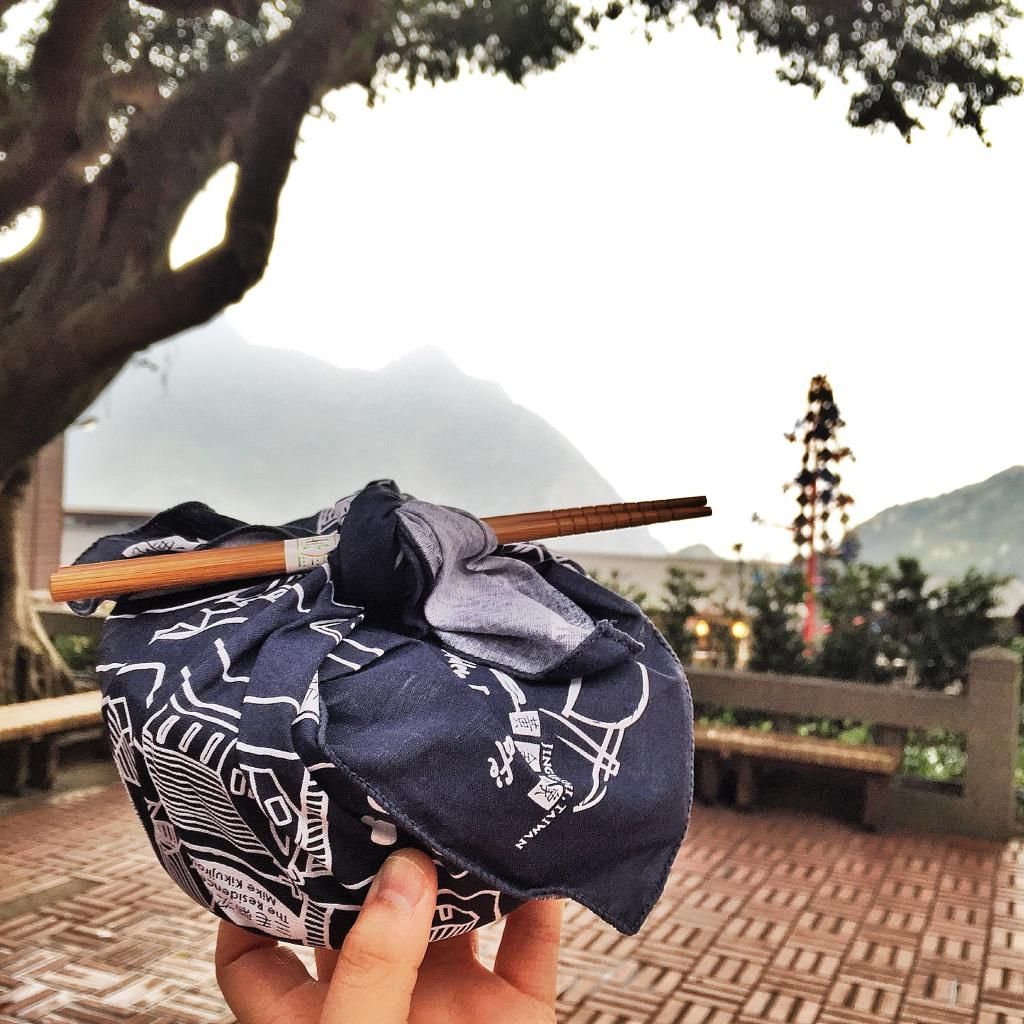 Such a great souvenir for only NT $250!
After lunch, I dropped by the post office beside the restaurant to write a post card for my grand father...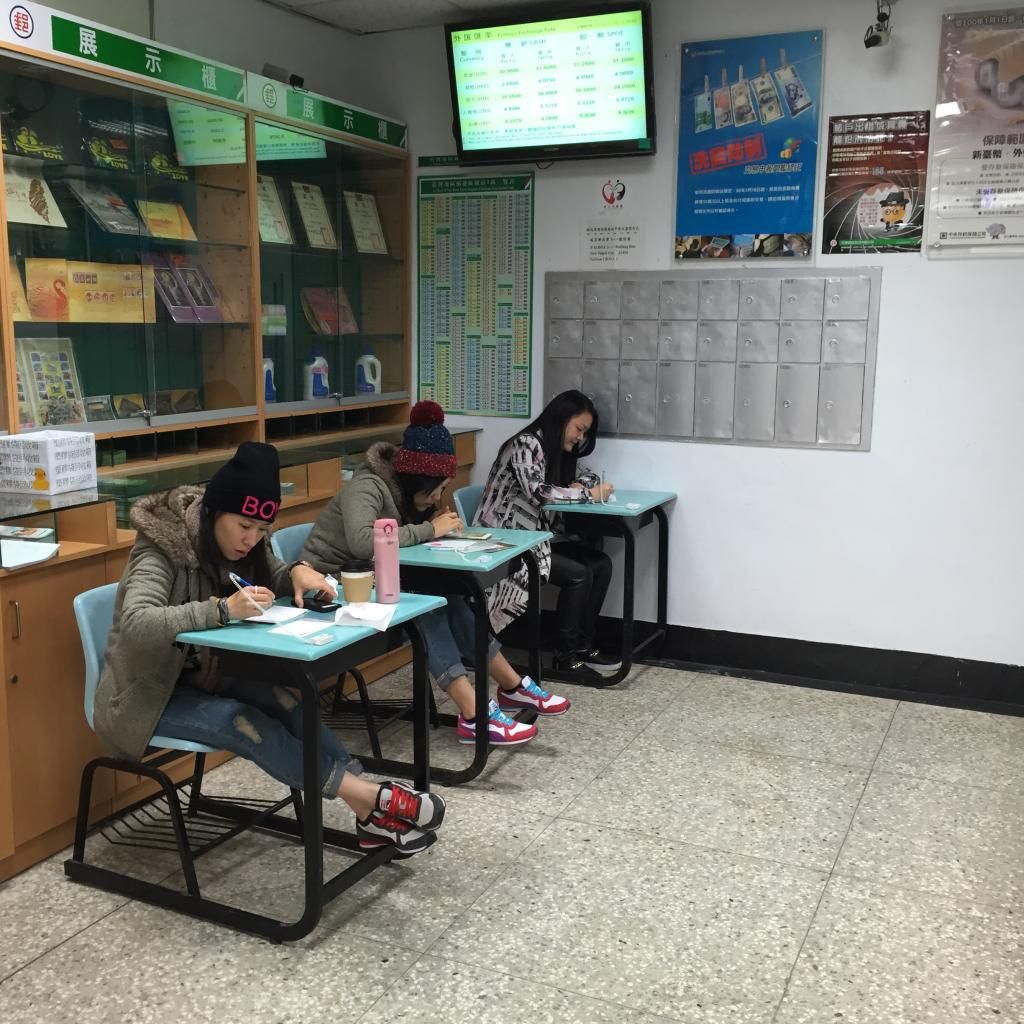 I think it would be a nice tradition to start writing and sending postcards to myself whenever I go to my travel adventures. What do you think? :)
黃金瀑布 GOLDEN WATERFALL
and the adventure in Jiufen continues...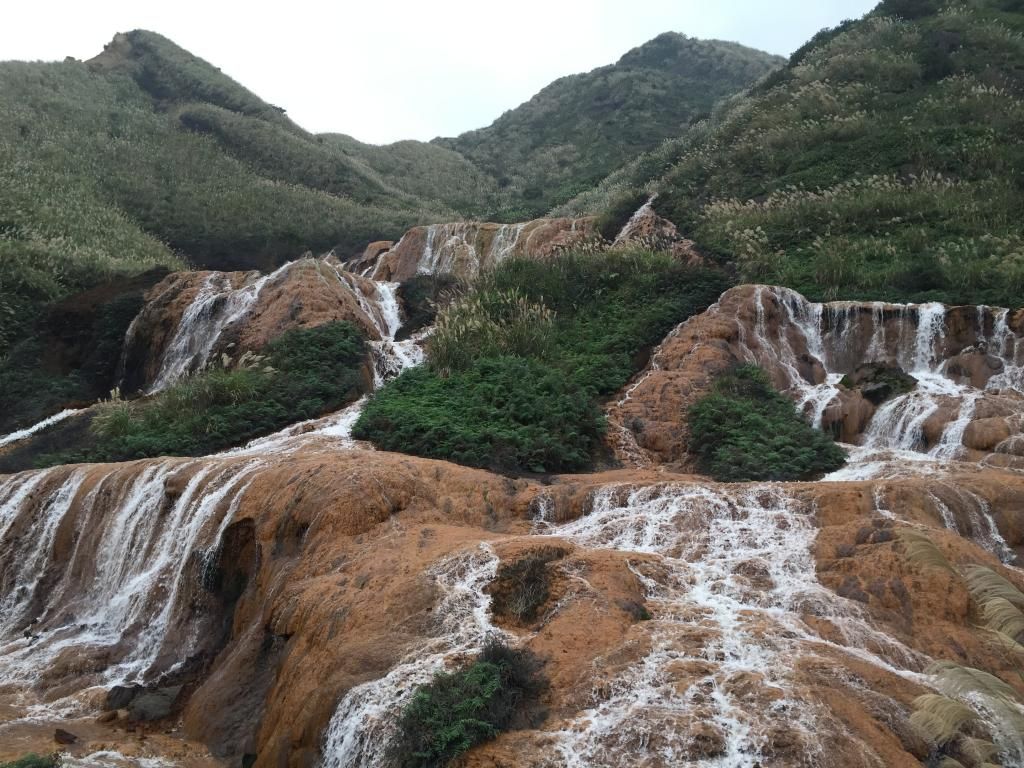 Although there is no actual gold flowing forth from these falls, the name reflects its golden appearance. The combination of regular rainfall in this mining area and abundance of heavy metal elements deposited in the riverbed radiate a gold-like colour.
But be careful! I'm pretty sure the water here is toxic so please don't dare to touch nor play with it.
陰陽海 YIN YANG SEA
Yin and Yang are the two opposing principles in Chinese Philosophy, one light, and the other dark. Thus, the name given to this beautiful contrasting yellow-blue sea.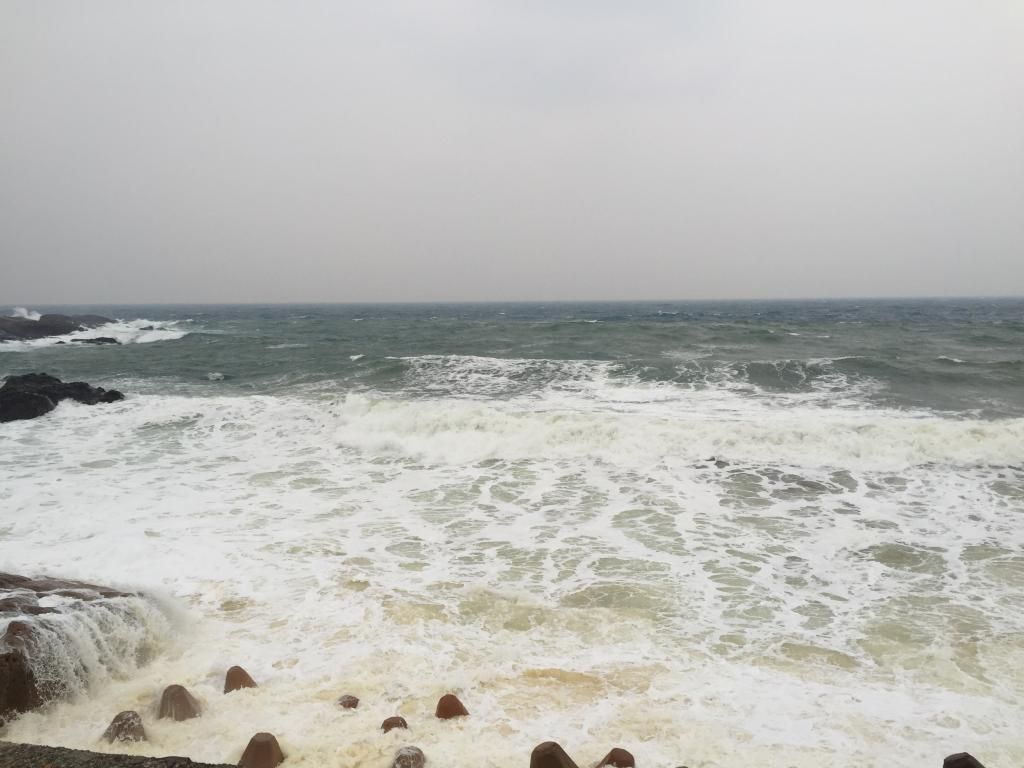 Due to the pollution from nearby mining activities in the past years, local belief has it that the coloration of this bay was caused by chemical runoff. Yet, even many years after the closure of all mines, the unusual hue of water remains.
After closer examination, it appears that this blue-yellow colouring is a result of the insoluble floating iron ions from the heavy concentration of pyrite (also known as "Fool's Gold") in the area.
九份老街 JIUFEN OLD STREET
The most prosperous shopping district is the Jiufen Old Street. It goes through most of the village beside the main roads.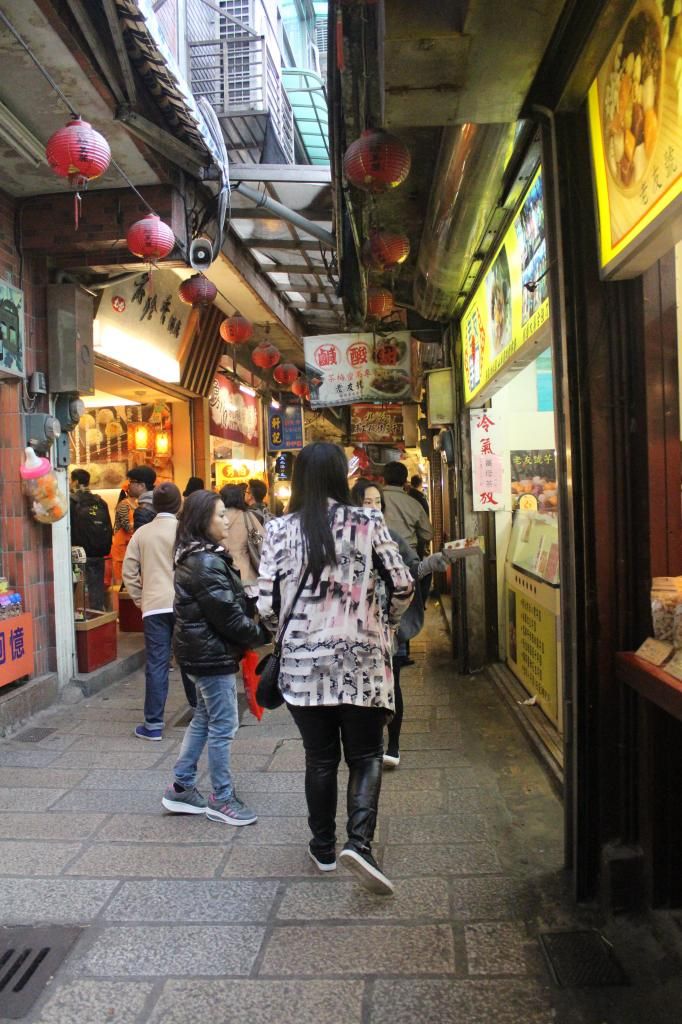 There are numerous small alleys and lanes that snake around the area and sometimes, even run beneath buildings that boast a wide variety of shops, restaurants, and cafes.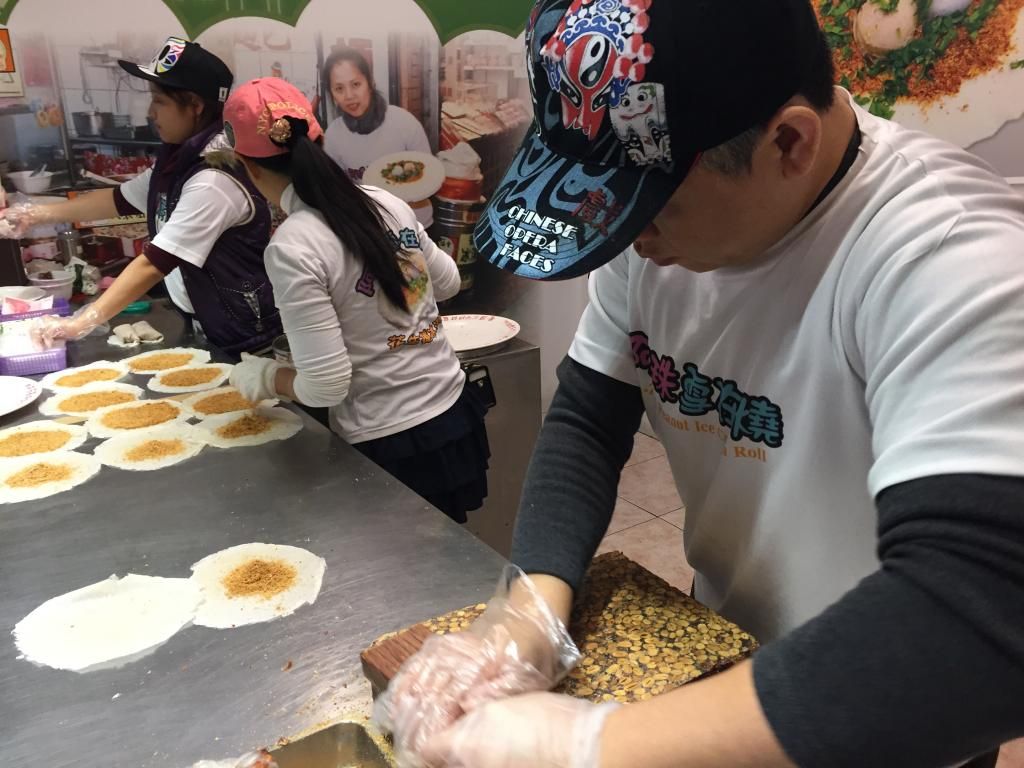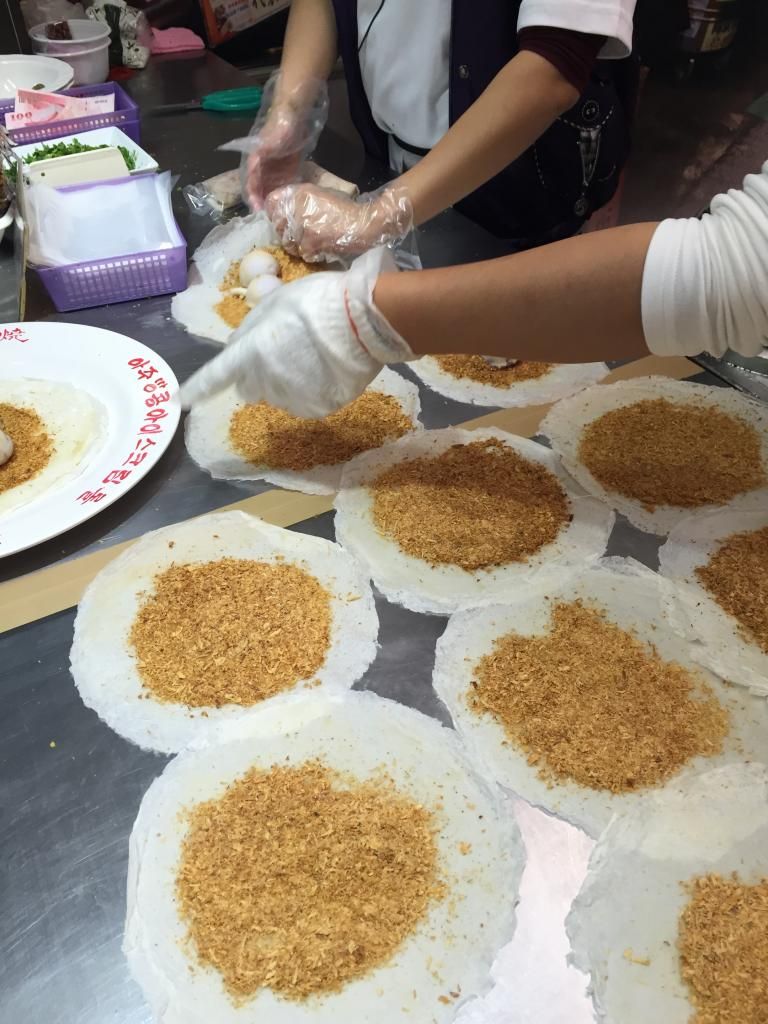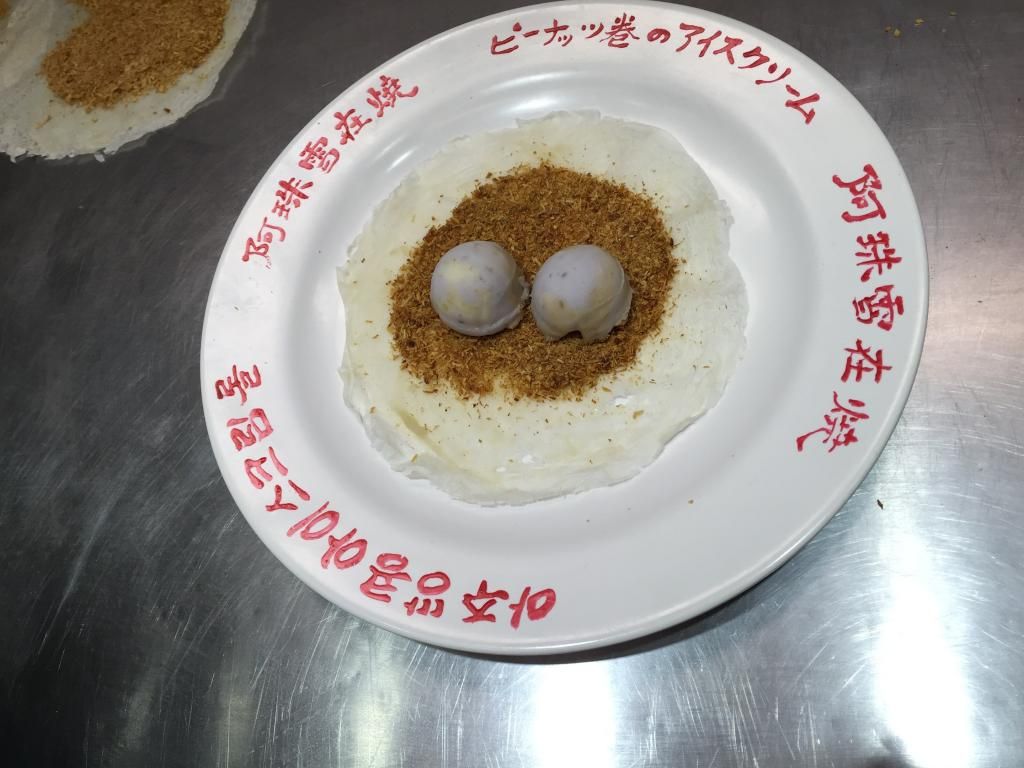 Yummy Nut+Ice Cream Lumpia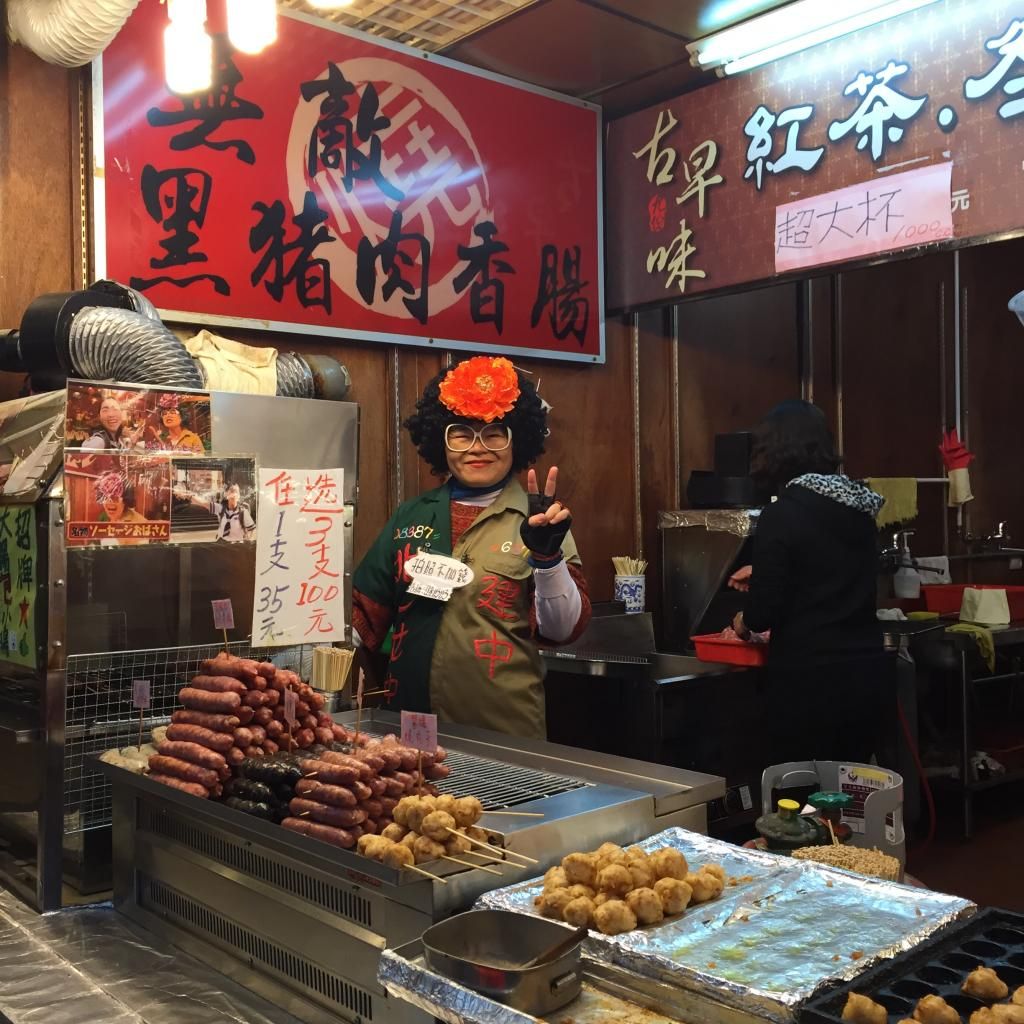 Passed by this sausage house with a super cute owner. She even posted a sign that says "Taking photos of me is for FREE"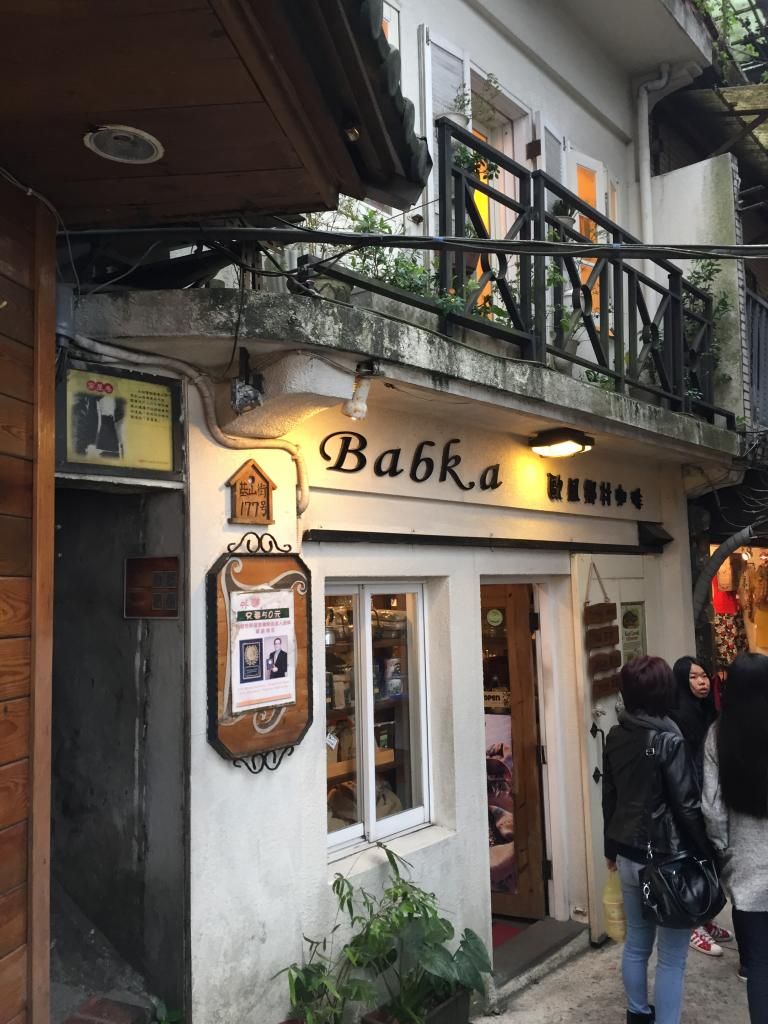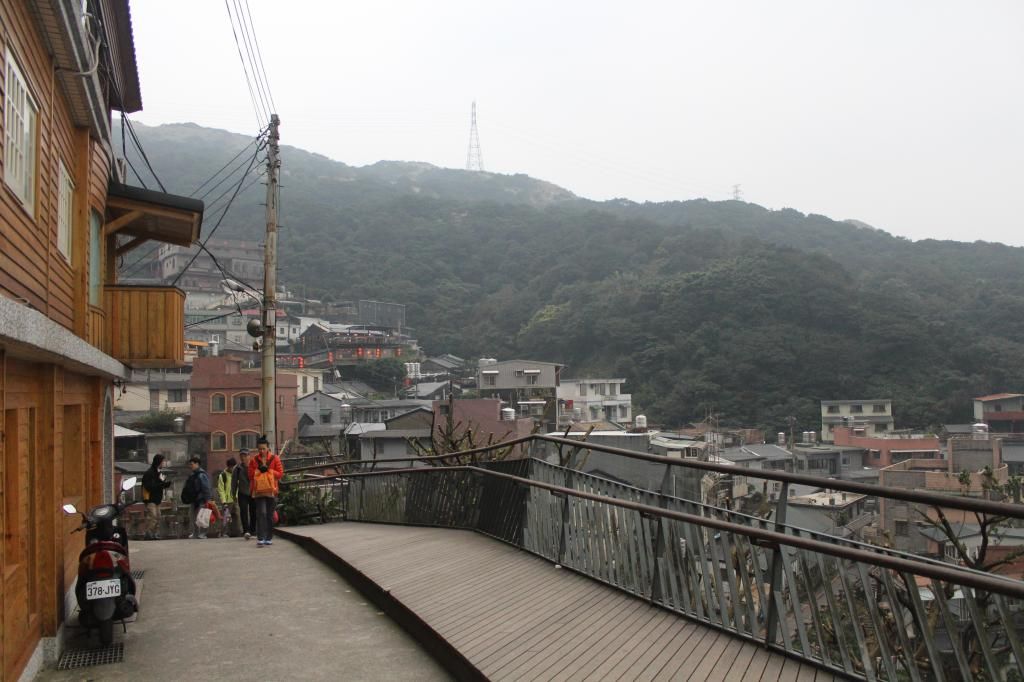 Along the street are shops selling famous country snacks, local dishes, and even historical items!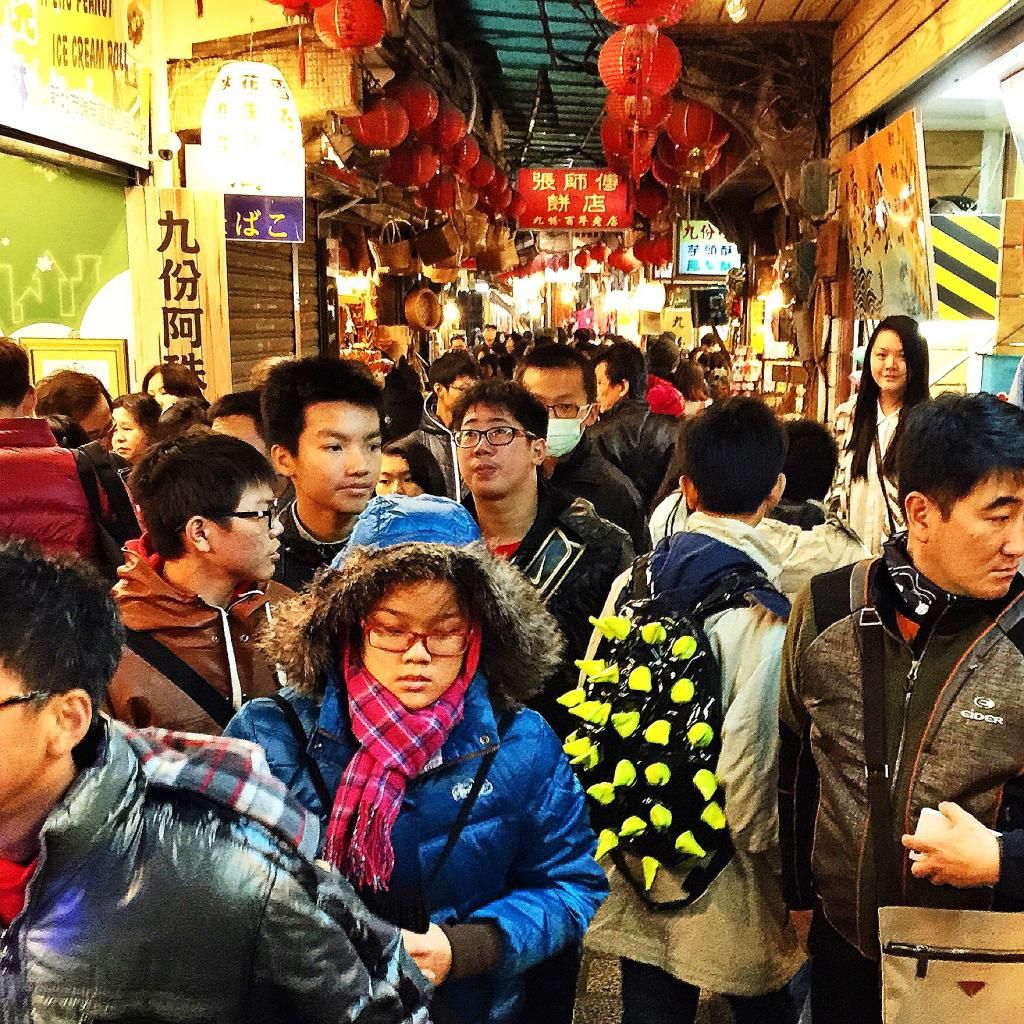 INFO:
Address: Ruifang District, New Taipei City near Keelung, Taiwan
How to Go:
By Train- From Taipei, take the train north to Ruifang Station. After exiting the station, cross the street to the bus stop next to the Wellcome Supermarket and board the Keelung Transit bus towards Jiufen. The bus trip takes roughly 15 minutes, and the fare is NT$21 during the week, NT$15 during weekends/holiday.
By Bus (via MRT)- From Zhongxiao Fuxing, Brown line and Blue line interchange, leave from Exit 1 and take bus route 1062 (Keelung Bus) to Jiufen. The ride is about 1 hour and the fare is NT$90.
十分老街 SHIFEN OLD STREET
Originally built to transport coal, the Ping Xi Branch Line of the TRA (Taiwan Railway Administration) has since been transformed into a tourist rail line with stops offering gentle mountainside strolls, sky lanterns, and an up-close look at the early days of train travel.
The Shifen Old Street section of Ping Xi District has become one of the busiest tourist stops along this line. Of particular interest are the Sky Lanterns 天燈 visitors release into the sky along the railroad tracks.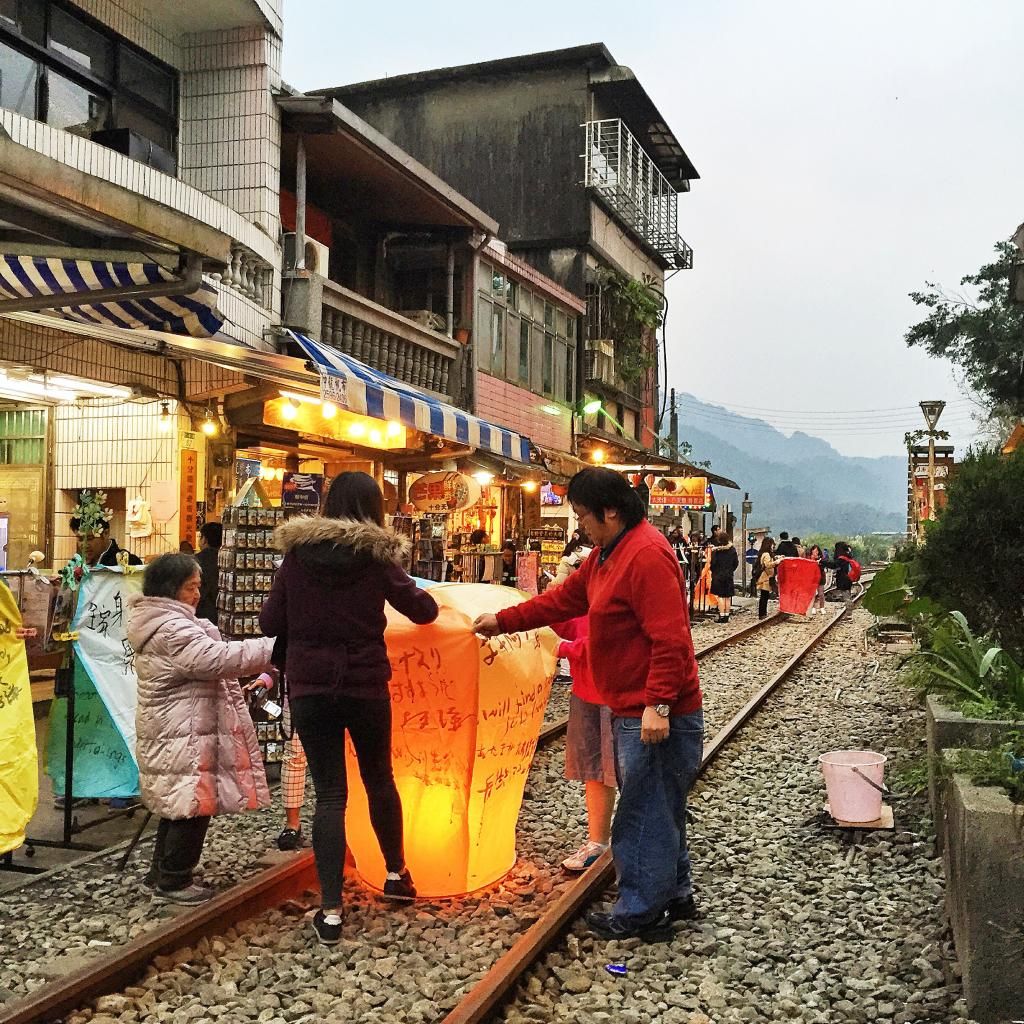 There was a time when lanterns were used as a signalling system for those living and working in the rugged terrain to keep family aware of their safety.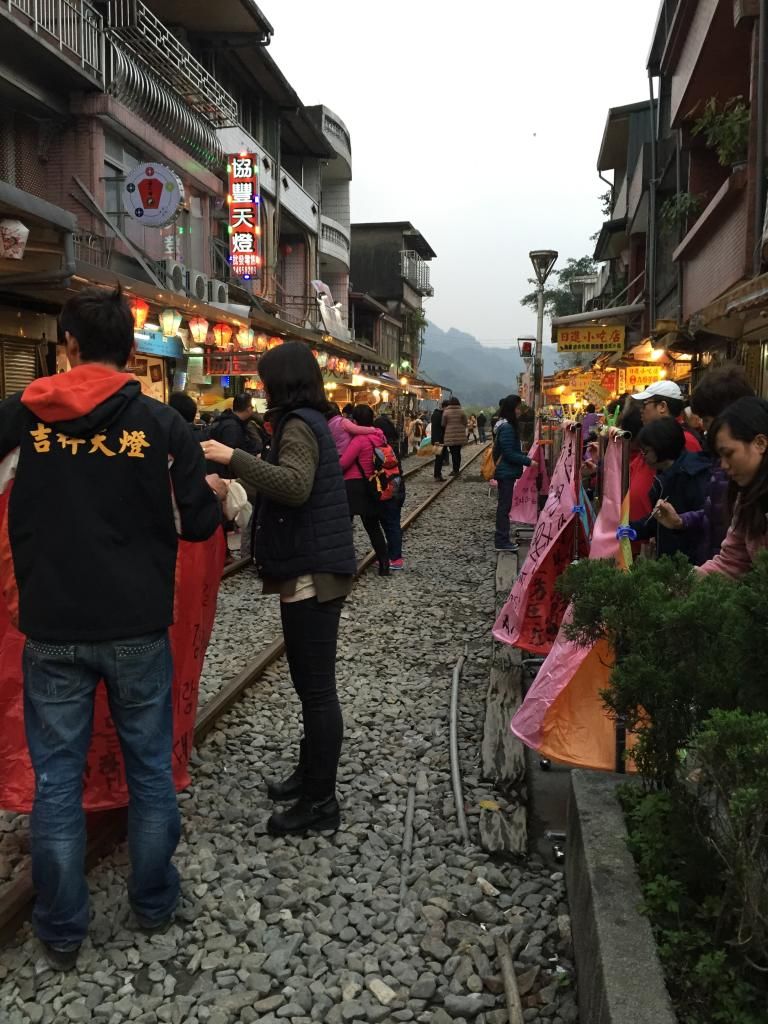 I've always dreamt of flying my very own lantern. Dreams to come true *yay*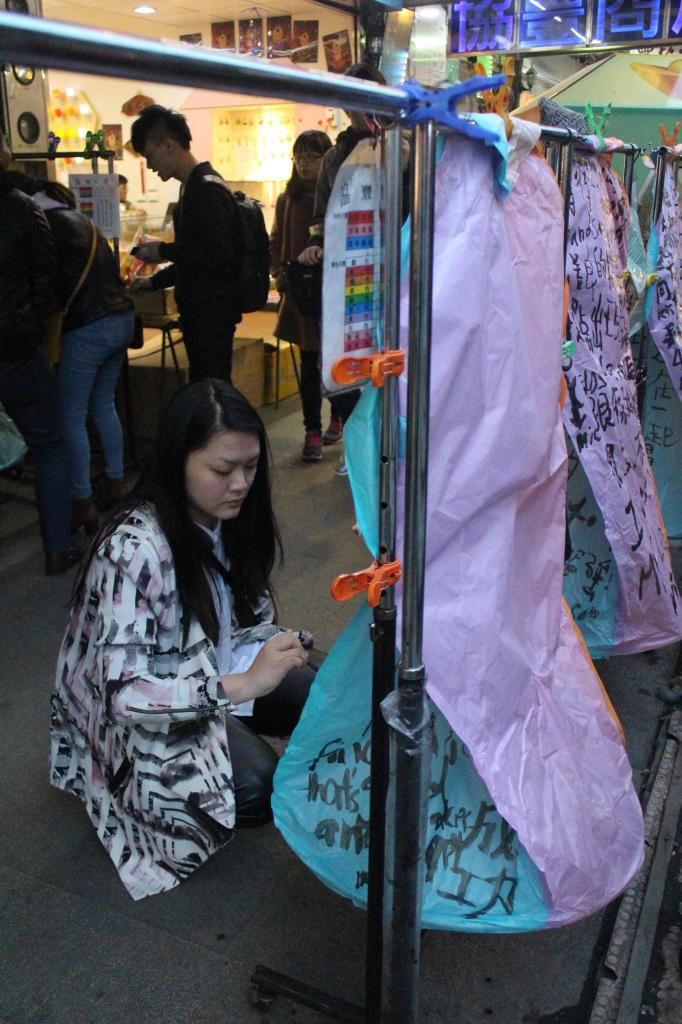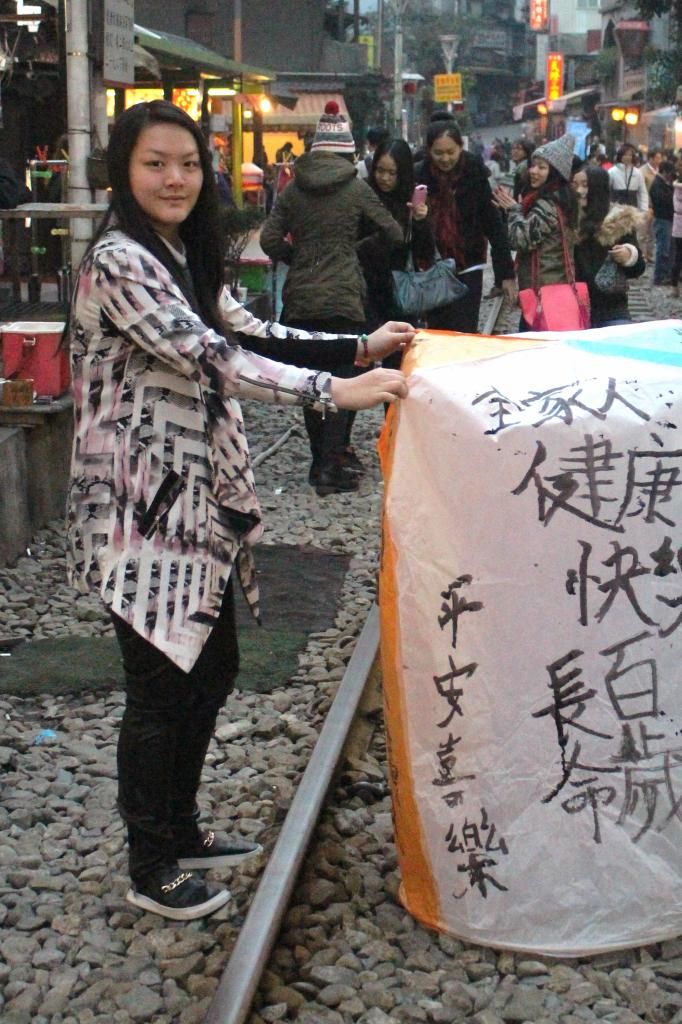 Painting my wishes in calligraphy form...
then up to the sky I did release my lit lantern.
Such a romantic place! Imagine being here during the Lantern Festival... I bet it feels like being in the set of Tangled!
INFO:
Address: Ping River (Pingsi) Township, New Taipei City 226, Taiwan
How to Go:
By Train- From Taipei Main Station, take a northbound train (except Keelung-bound trains) towards Ruifang Station. Transfer to the Pingxi Line and purchase a One Day Ticket for the Pingxi Line
By Bus (via MRT)- From Muzha Station (木柵, Brown Line 1), take bus 1076 towards Pingxi (平溪)
西門町 XIMENDING
It's time to go back to the city!
My original plan was really to spend the whole night in Ximending. However, since I needed to meet my previous classmates, I decided to just cut my trip short.
Nonetheless, even when I was already in a hurry, I still dropped by this station since I badly wanted to buy a pair of Adidas Superstar II.
(I called all the Adidas and ABC Mart shops around the whole Taipei and they told me that they got only 1 pair left for my size and they're in the XiMenDing branch.)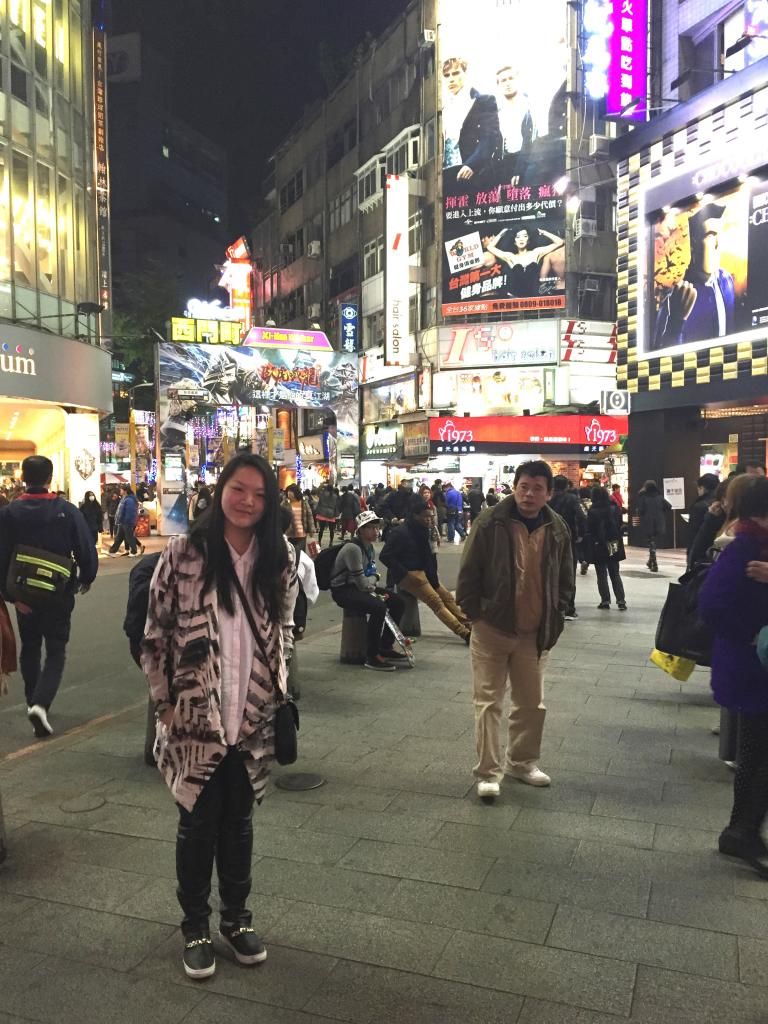 Ximending is similar to Shibuya of Japan- both are famed fora diversity of entertainments and activities that allure large number of young people and young adults.
INFO:
How to Go:
By MRT
- Take Taipei MRT Bannan Line and head to Exit No. 6 of the MRT Ximen Station
N.Y. BAGELS CAFE
To cap off my day, I met up with my previous Taiwanese classmates from my short Taipei study stint 6 years ago...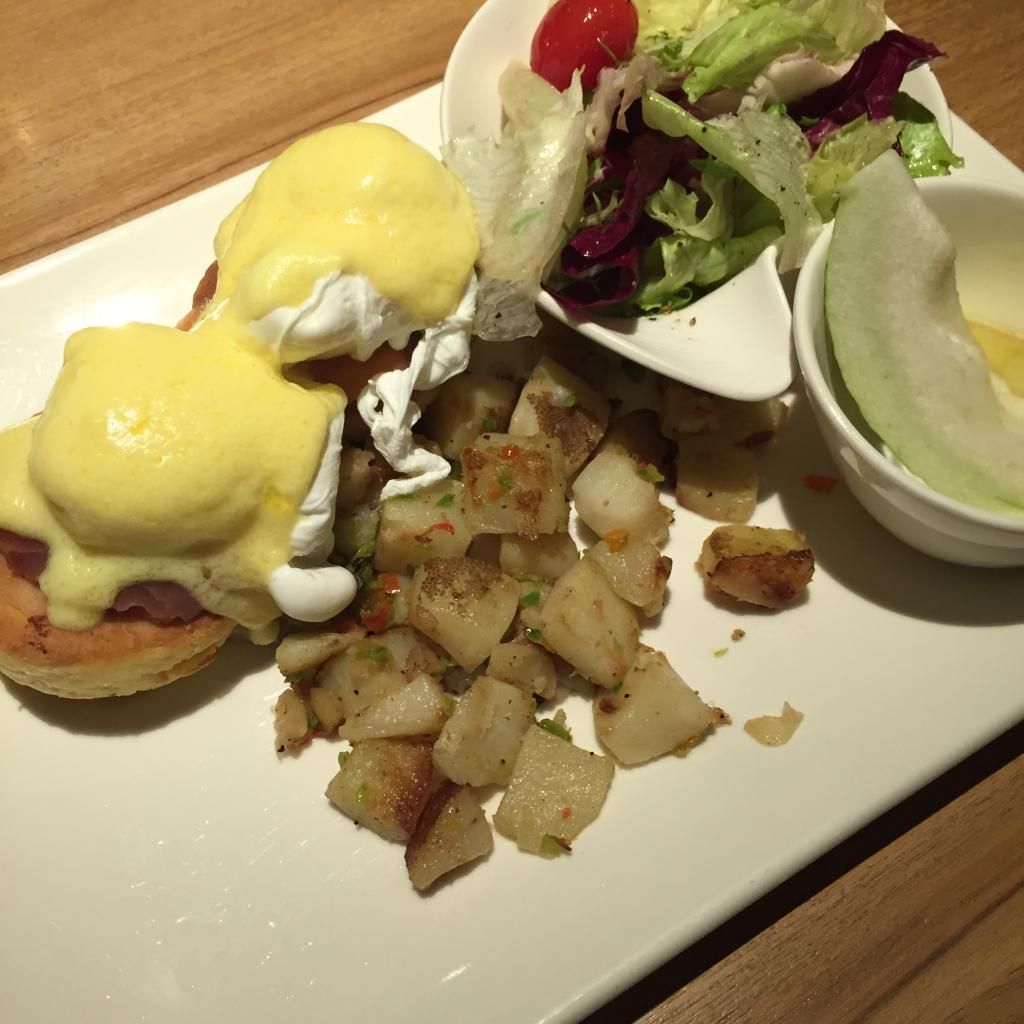 Breakfast food for dinner... Why not?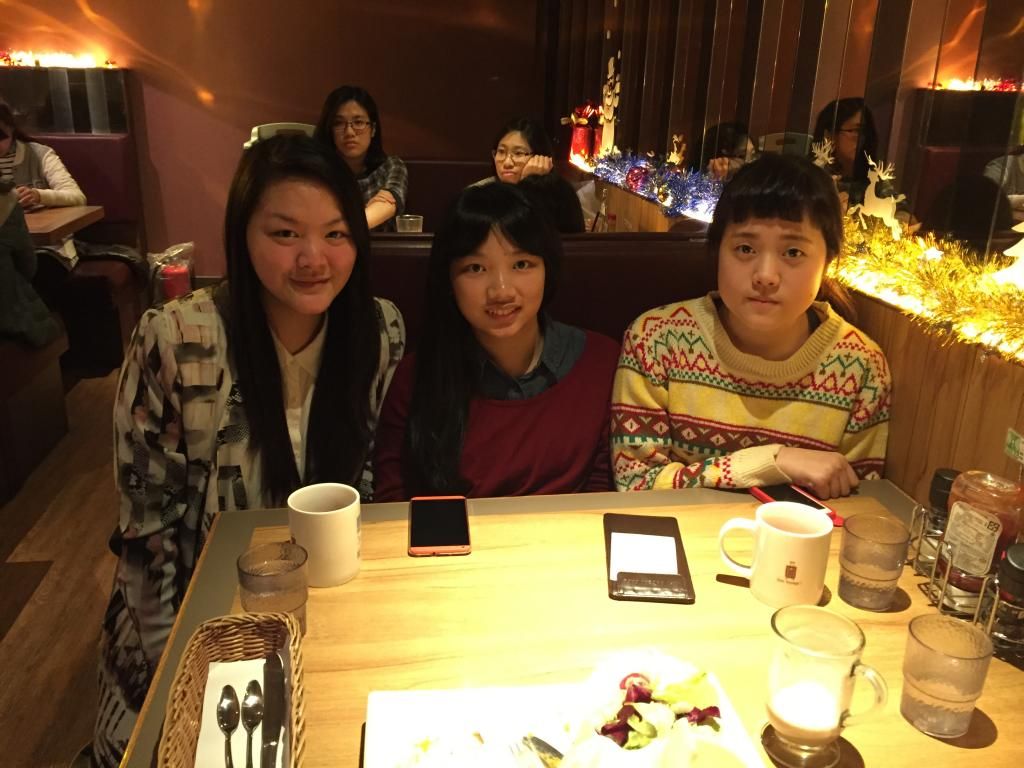 We talked about a wide variety of topics the whole night. It's amazing how much we still clicked despite not seeing each other for SO long. I wouldn't love Taiwan this much if it weren't because of them. They were the ones who guided me in school 6 years ago, when I was so clueless about their culture.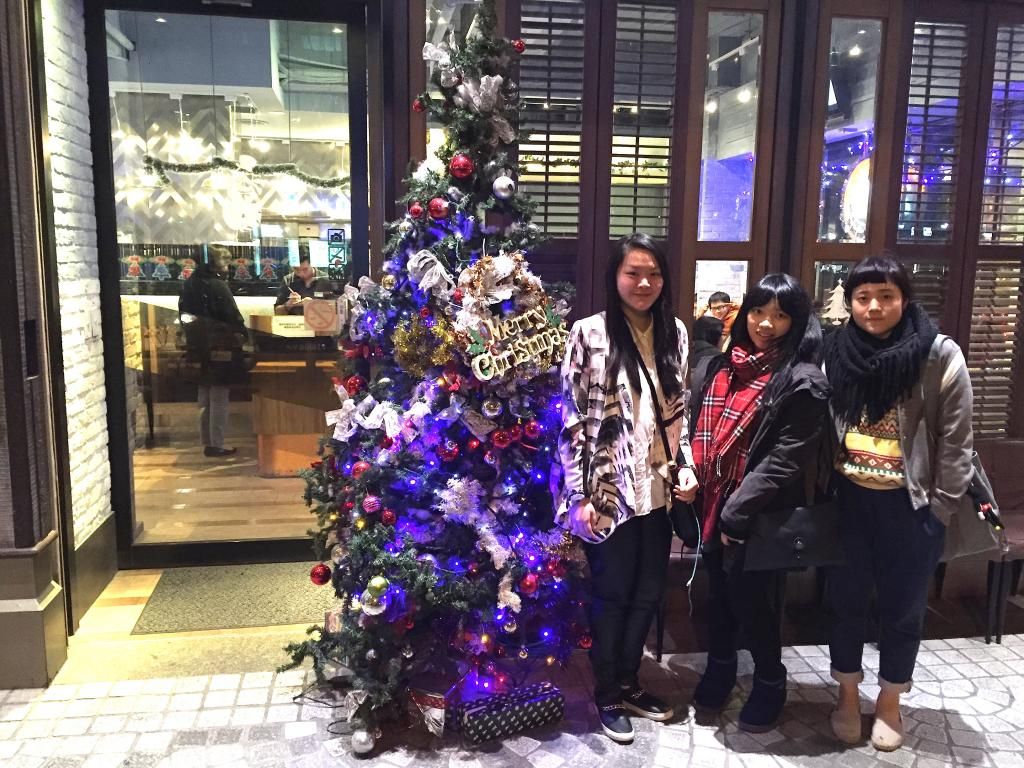 Having friends from another country is really fun! You learn so much from one another.
INFO:
Website: http://www.nybagelscafe.com/
More of my adventures in this beautiful country in the coming posts!