I didn't expect this typhoon/habagat to be this strong :( I thought, it's just one of the usual typhoons we experience during rainy season... but I was wrong :(
I experienced the worst typhoon ever last Ondoy because it started early and I was in school, surveying around the barangay. Luckily this time, my whole family's together in the house when Maring started to bring heavy rainfall down Metro Manila.
I thought everything will end on Monday night since it was not raining anymore but :( :( :(
I woke up today at 2 am, frightened by the loud roaring of thunder and flashes of lightnings. I think the thunder even hit something near our house since I heard some kind of explosion :(
I can't sleep until 6 am since I was really really afraid and nervous :( I can't imagine how my other countrymen who don't even have any shelters to protect them spent their nights :(
Here are some reminders I want to share with you guys. Remember: SAFETY FIRST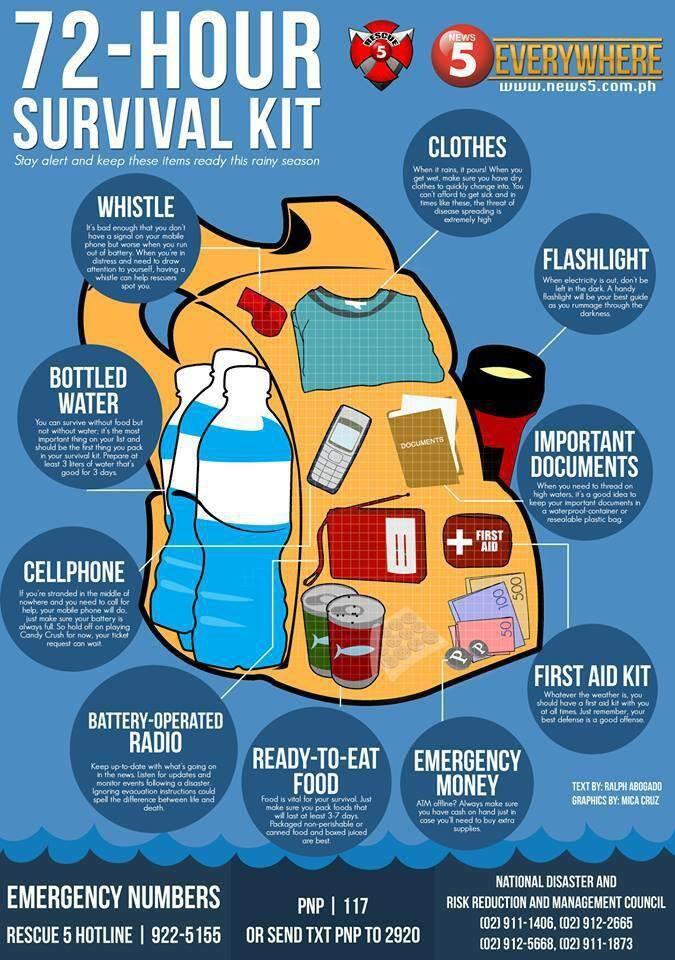 Photo from TV5
To those who are capable to help out, here are some ways on how you can help Maring Victims
(compiled by Yahoo)
RescuePH.com
If you know of people who need to be rescued, add them to RescuePH.com database. You may also tweet the name/s, exact location and flood situation and use the hashtag #rescuePH.
Philippine Red Cross:
Text your donations: RED AMOUNT to 2899 (Globe) or 4143 (Smart)
Website: http://www.redcross.org.ph/donate
ABS-CBN Sagip Kapamilya:
Full details available here
Department of Social Welfare and Development (DSWD):
For Donations:
DSWD peso current account: # 3122-1011-84, Landbank of the Philippines Batasan, Quezon City
DSWD US Dollar Savings Account Foreign Donation #
3124-0055-81 Swift Code TLBPPHMMXXX. Landbank of the Philippines, Batasan
Volunteers can go to National Resource Operations Center (NROC) NAIA Chapel Road, Pasay City.
List of evacuation centers in Metro Manila

University of the Philippines
Relief Ops of UP Diliman at CHK gym. Immediate need of donations and volunteers.
Polytechnic University of the Philippines
CALL for DONATIONS and VOLUNTEERS: The IPOD V (I am PUP Operation Damayan
Volunteer), the official volunteer group of PUP Community Relations and
Extension for Development Office, is now calling for donations and
volunteers. You may reach the group through their contact number: 09169374280 or by going to South Wing, Room 308 at PUP Mabini Campus.
Enderun Colleges
Please send your donations to Enderun Colleges, Mckinley Hill, Taguig City.
University of Asia and the Pacific
UA&P Relief Operations: You can drop off your donations at Escriva gate, Pearl Drive gate, or Prom A.
LBC
Drop off your donations at LBC branches. These will be turned over to Philippine Red Cross and different evacuation centers.
Muntinlupa City
The Muntinlupa City Hall is calling for donations of relief goods and volunteers for rescue and relief operations.
Gawad Kalinga
Gawad Kalinga is asking for cash pledges to buy relief goods for the villages affected in Taguig.
McDonald's Philippines
McDo stores now open to accept donations. See how you can help fellow Filipinos in this time of calamity
Sto. Domingo Church in Quezon City
For inquiries re: evacuees at Sto. Domingo Church in QC, call 712-6271 to 74. Ready-to-eat food, water, clothes needed. via

@varsitarianust
Rappler.com also compiled a list on how you can help out with #ReliefPH. Click HERE for more details.
Kaya nating lagpasan ang pagsubok na ito, Pilipinas.
#PrayforthePhilippines